TJ Class of 1965
- Richmond, Virginia -

Visit "Thomas Jefferson High School Richmond Va Class of 1965" on Facebook and LIKE us!

Thomas Jefferson High School webpage - click here
Other TJ classes' webpages - click here
2019 Upcoming Events
---
Senior Class Fundraiser and Prom
TJ Senior class fundraiser that will be held on Tuesday, March 19 at the Cary Town Chipolte between 5 and 9 p.m. Just print (or show on your smart phone) the attached PDF flyer (<---click link) and present this to the cashier and the senior class will get 33% of your total.
---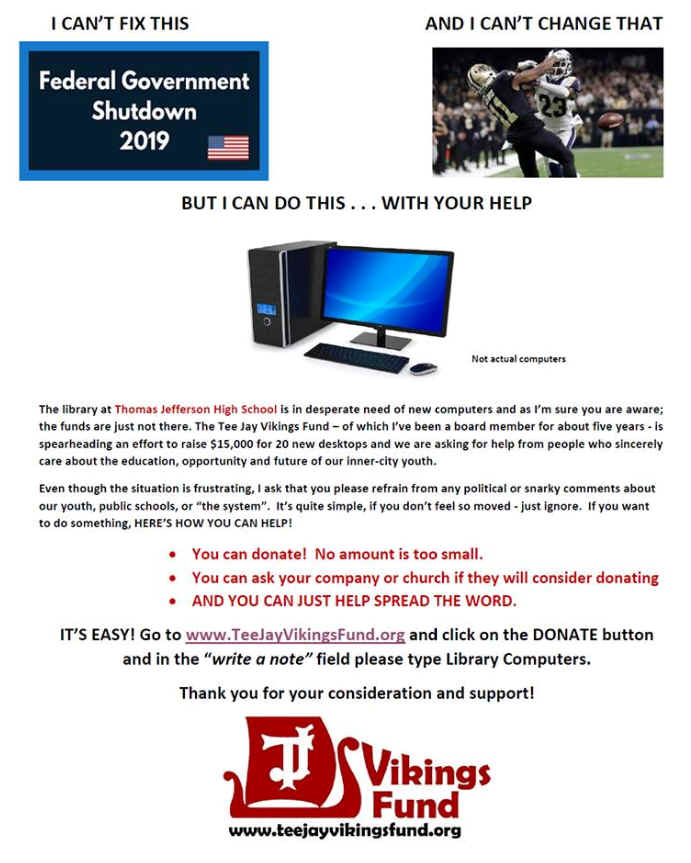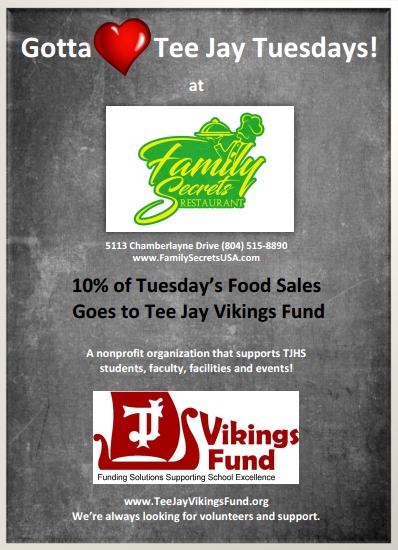 Family Secrets Restaurants 10% Tuesdays to TJVF
Click here for the Tee Jay Vikings Fund website
The Tee Jay Vikings Fund is a charitable, non-profit 501(c)(3) organization EIN#(45-5164961) that focuses on philanthropic/financial support and interest in Thomas Jefferson High School scholastics, athletics, music, arts and science.
Click here for the TJ Cadet Corps Alumni Association website
---
At 71, Chesterfield's Frisbee champ enters the Hall of Fame
Watching Phil Pollack throw a Frisbee disc into the air – then follow its flight to catch it inches before it lands – is like watching a major league pitcher paint the plate with a curveball...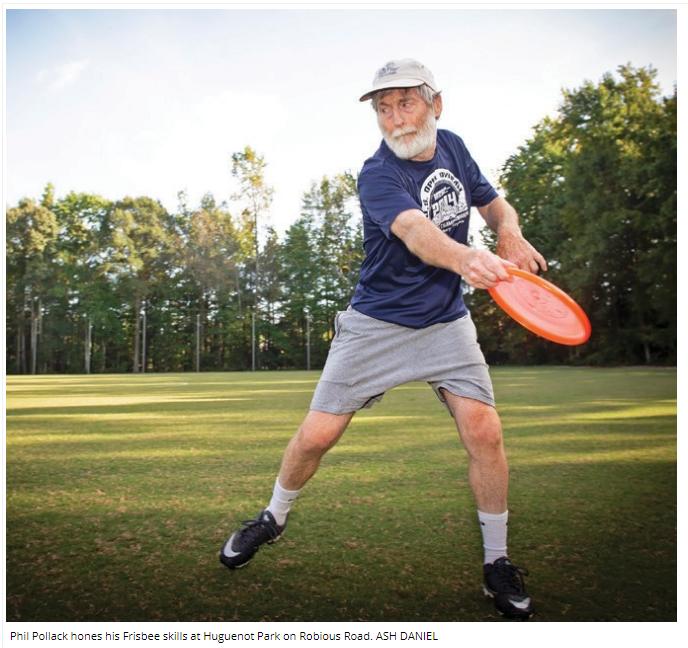 Read the whole October 31, 2018 Chesterfield Observer article here (click on link below) or the "In the News Recently" link above:
https://www.chesterfieldobserver.com/articles/still-soaring/
---
Click here to see some recent pictures of "spruce-ups" at TJ
---
Classmates, Lost but not forgotten - click here
---
Posted since our 40th reunion - click here
If provided, obituaries may be viewed by clicking on the above link.
Ronald Shaw's Brother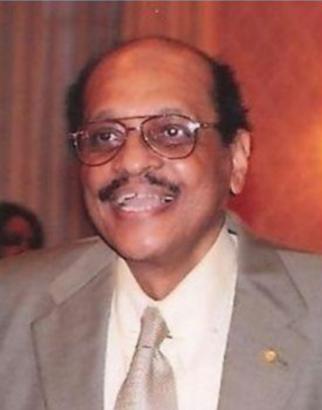 SHAW, Nathaniel C. Jr., 80, (Ret. SFC-USA), of Richmond, died December 26, 2018. He was preceded in death by his daughter, Natalie Shaw. Surviving are his wife, Gloria Shaw; two daughters, Donna Coker and Brenda Goode (Anthony); son, Nathaniel C. Shaw III; two grandchildren, Cory Coker and Jewel Goode; brother, Ronald L. Shaw (Patricia); aunt, Elizabeth Hackett Cooper; nieces and nephews, other relatives and friends. Remains rest at Scott's Funeral Home, 115 E. Brookland Park Blvd. Funeral services will be held 11 a.m. Thursday, January 3, 2019, at St. Paul's Catholic Church, 909 Rennie Ave. Interment Arlington National Cemetery at a later date. Online guest book at www.scottsfuneralhome.com

Published

January 1, 2019
---
Judy Carol Huntley Creasy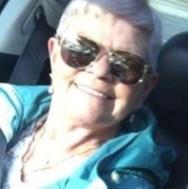 CREASY, Judy Huntley, aged 71, left this world unexpectedly on Friday, October 26, 2018. Judy was an avid fan of the Washington Redskins, loved fishing and nature, German Shepherds, Miniature Pinchers, Labradors and frequent trips to Aruba and the Tamarijn Resort. Fiercely loyal to her family and friends, Judy left a favorable, lasting impression on all who were fortunate to meet her, including the animals surrounding her wooded home. Judy was born and raised in Lynchburg, Virginia, but moved to Richmond as a teenager and attended Thomas Jefferson High School. After graduating, Judy went to work for Caskie & Frost in Lynchburg, where she became a paralegal - a profession that would channel her natural curiosity, her inquisitive spirit and her dogged determination. Throughout her five-decade career, Judy worked as a litigation paralegal at the Richmond law firms of Mays & Valentine, Hunton & Williams, LeClairRyan, Midkiff Muncie and O'Hagan Meyer. At one point during her career, Judy suffered a serious brain injury in an accidental fall, but recovered fully and resumed work, taking pride in helping to uncover and defeat meritless claims and zealously represent her clients. Judy was a keen and accurate observer, understood human nature better than most and pursued her interests with passion and pride. Judy is survived by her daughter, Angela "Angie" Brown of Midlothian (of whom she was especially proud); her sister Donny; brother-in-law, Larry Woosley of Lynchburg, Virginia, and the scores of friends she made during her career. Judy's spirit and personality will be keenly missed but never forgotten. A Celebration of Life will be held at Bennett Funeral Home, located at 14301 Ashbrook Parkway, Chesterfield, Va. 23832 on November 10, 2018, between 2 to 4 p.m.
---
Pat Vitsky's Mother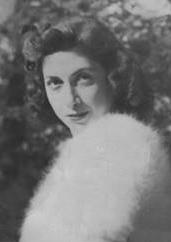 VITSKY, Betty Jane Wallerstein, was born January 23, 1918, at Stuart Circle Hospital on an icy, cold winter morning. She passed away on March 13, 2018, on an icy, cold winter morning. She lived in Richmond with her parents, Mr. Samuel Wallerstein and Mrs. Fannie Schlesinger Wallerstein, her brother, Sam, and sister, Joan. At age 9, "Betsy" moved to the family home in Wheeling, West Virginia and stayed until her return to Richmond for her senior year of high school at Thomas Jefferson. While on a stroll down Tilden Street, she exchanged "knock knock" jokes with a young Maurice Vitsky and was smitten. They were married in 1943 in the Jefferson Hotel office of Rabbi Calish before WWII whisked him away on a ship. They continued their devoted love affair until his death in 2004 but she missed him every moment since. Always an artist from the early days of her youth, Betsy attended Richmond Professional Institute for fashion illustration. She spent an extremely eventful year in New York City, modeling fur coats, sketching fashions in store windows and learning about a multitude of things that she never knew existed. A newly enlightened Betsy returned to Richmond to work for Thalhimers, drawing fashion for newspaper ads. After that, she taught fashion illustration at RPI and sat on the edge of her bed, her "studio," to ink shoes for Montaldo's ads. Her day jobs were carefully balanced with devotedly raising her children and attending to her husband. She was always class "room mother" and raised funds as a member of the medical auxiliary. In her later years, Betsy discovered a passion for pastels. Under the tutelage of Eleanor Atkinson, she honed her skills. Many a Richmond home has a delicate, pastel portrayal of a beautiful child hanging in a place of prominence. She was extremely generous. If you liked something mom was wearing, she'd give it to you- or buy one for you- the next day. She continued her interest in fashion her entire life. Carlyle and Saks will miss her almost as much as we will. She loved animals and never met a dog she didn't love at first sight. She loved to cook; anything chocolate, her specialty. She was a great listener and an equally great storyteller. She was an avid reader of biographies well into her centennial year. Betsy is survived by her children, Patricia Vitsky, Paul Vitsky and Sally and Philip Ucci (her fourth child and second son). She is also survived by her sister, Joan Goldbarth of Tampa, Fla. Her grandchildren, Matthew and Alexander Ucci, were the "icing on the cake." She was blessed to have seen them both married to the best girls ever, Elizabeth Sutton Ucci and Elizabeth Magrath Ucci. She loved them like her own. She is also survived by Julie Gentry, her very best friend and Connie Taylor, her devoted weekend pal; and many nieces and nephews whom she adored. We are ever so grateful to have inherited a sense of humor from two amusing parents. All the goodness we have can be attributed to their union. We can only hope they are laughing and loving, together again. Family and friends are invited to gather at the home of Philip and Sally Ucci on Friday, March 23, 4 to 6 p.m. Interment is private. In lieu of flowers, contributions can be made to University of Richmond and Temple Beth Ahabah.

Published in the

Richmond Times-Dispatch March 18, 2018
---
For Older Obituaries, Click Here
*******************************
TJ Class of 1965 only
If you are not receiving emails from us from time-to-time [last one sent February 26, 2019], we probably do not have a valid email address for you. Please send us your new email address.

...be sure to include your name in 1965!
or
Classmate Information Update Form - click here
List of Classmates We Need to Locate - click here
---
Become a TJ Class of 1965 Benefactor - click here
View current list of Benefactors - click here
---
201

7

We did it!...Again...

"Class of 65 turns 70" Event

(

August 23, 2017)

Four Tops and Temptations

at Innsbrook After Hours

Music, friends, food, and more (6:00-10:00 PM)

-----------------------------------------------------------------

Click here or on the image below to be redirected to:

Innsbrook After Hours Home Page

---
2015
We did it!


Read and/or listen to Ned Hood's toast to the Class of 1965 - click here

***Class Photo by Classmate John Henley***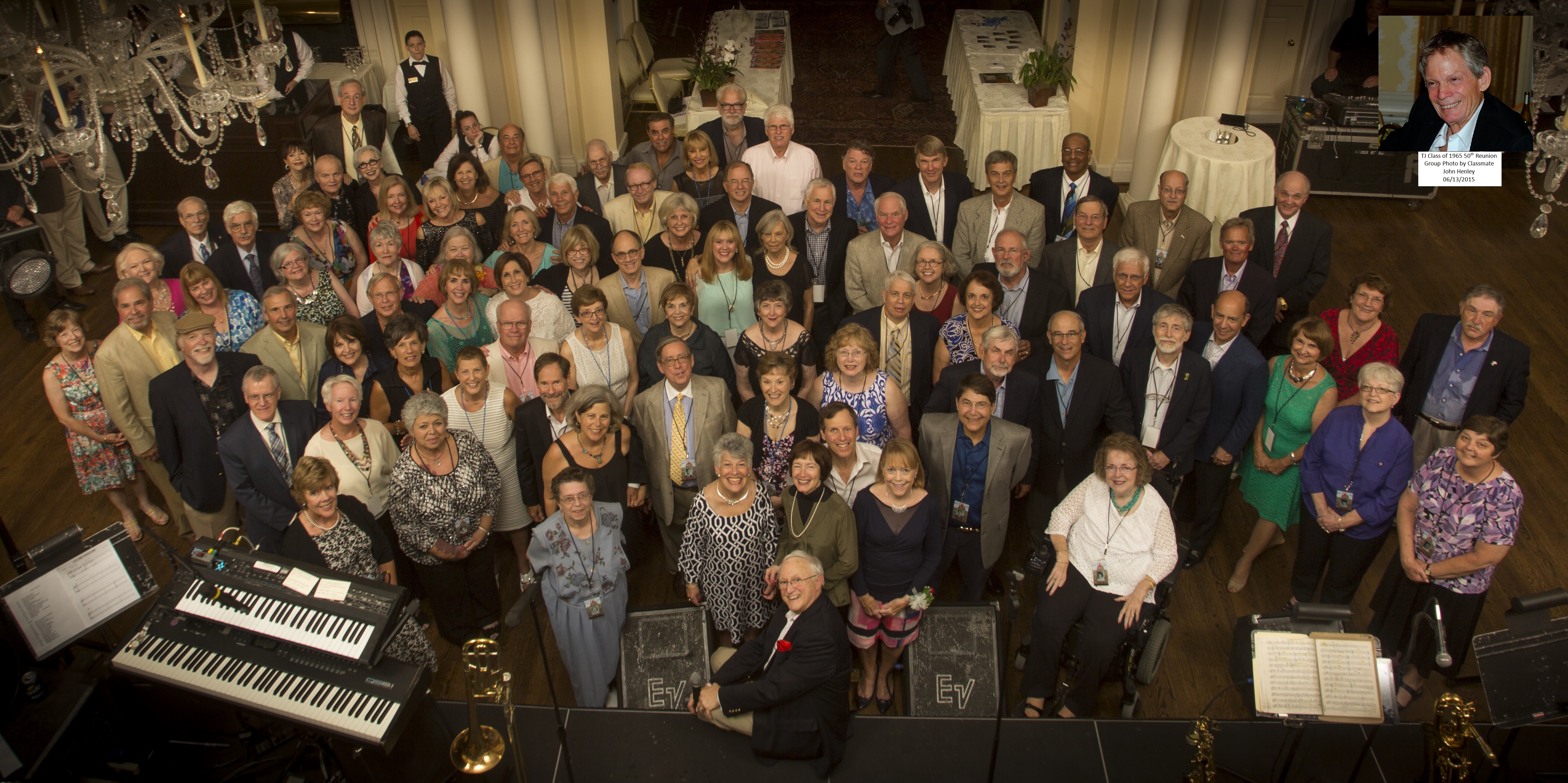 Click on picture "KEY" below to see names: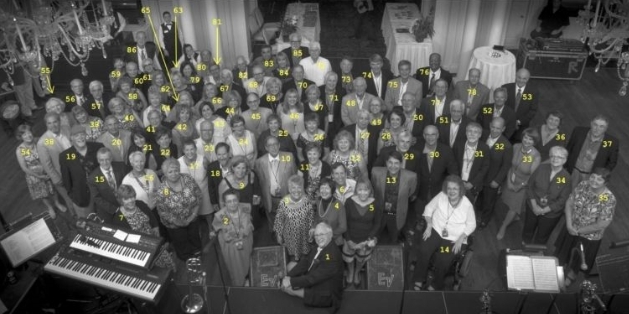 Click here for original reunion details
50th REUNION - JUNE 12 - 14, 2015
Original Invitation and RSVP - for PDF - Click here
---
201
2
"65 turns 65" Party
(Held June 30 and July 1, 2012)
Original Invitation <-- click here
Pictures from the party <--click here
(If you have more - send them to us)
---
2010
45th Reunion
(Held October 1st - 3rd, 2010)
Click here for Reunion details
Click here to see who attended
---
2007
"65 does 60" Birthday Party
(Held April 28, 2007)
Original Invitation <-- click here
Pictures from the party <--click here
(If you have more - send them to us)
---
2006
"SWEET MEMORIES" DISTRIBUTION PARTY- click here
(Held February 25, 2006)
---
2005
( Held October 28th, 29th, and 30th, 2005)
---
1985
---
REUNIONS
Thanks to our "historian" [Ned Hood] we have added many pictures from our 20th reunion (1985) and our 40th reunion (2005).
Check them out here:
(click on selection below)
---
---
***Java may be needed to activate some of the buttons/bars***
You can download Java for free at http://www.java.com/en/download/
---
---
ARCHIVES
---
(Click the above link to view older articles not on Homepage)
---
Photos and Comments from Classmates - click here
(Last updated 07/14/2017)
---
TJ - Then and Now - click here
---
Memory Lane - Selected 1965 yearbook pictures - click here
---
"forty65" Archives - click here
---
---
Memorabilia Store - click here
---