Click Here to Return to Home Page
From Winston Evans - 07/14/2017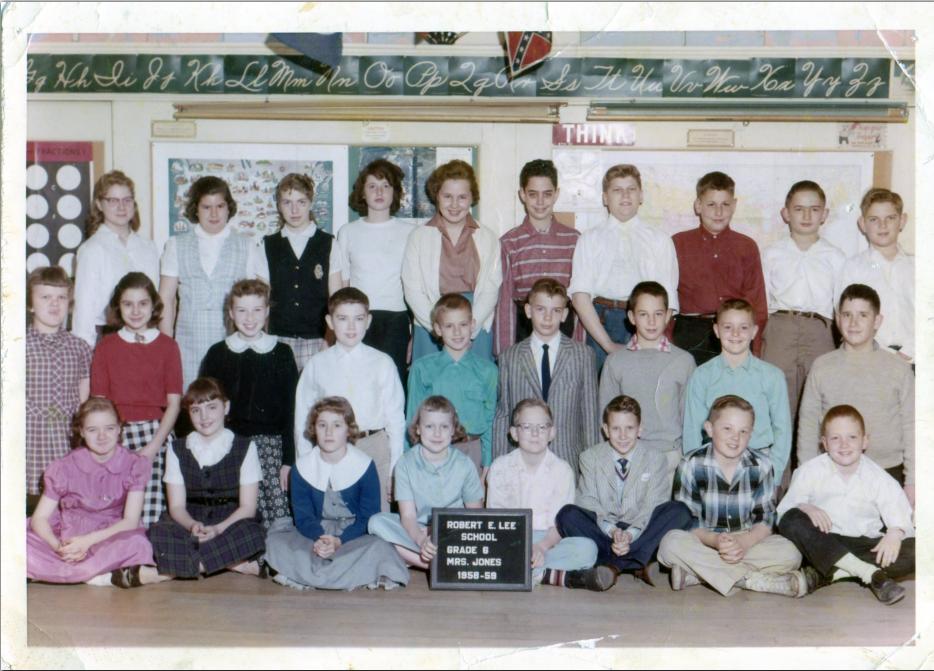 ...a photograph of my Lee School fifth grade class [(1958-59) - Mrs. Jones teacher]. Some of the students in the photo went all the way with me through Tee Jay.
---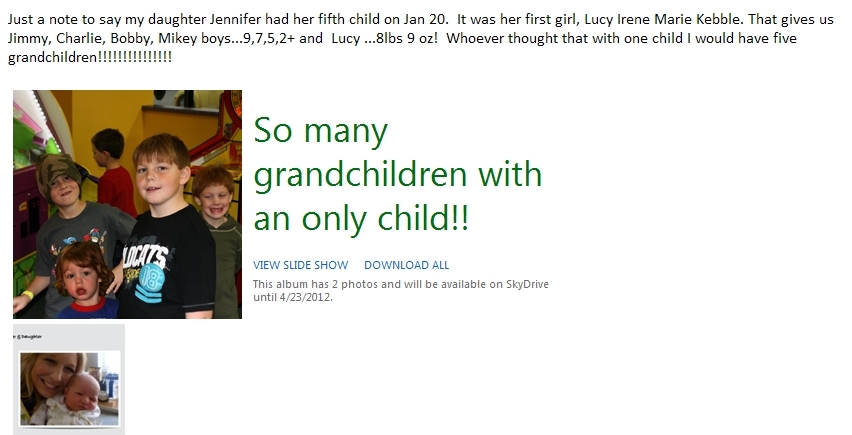 --Steve Green---email 1/24/2012
---
If you would like to submit more recent photos of you, your family, or your participating in your favorite hobby or sport, please email them to us at the address on our home page (Reunion@TJclassof1965.com). Be sure to tell us who is submitting the photo(s) and, if necessary, where you are located in the picture.
---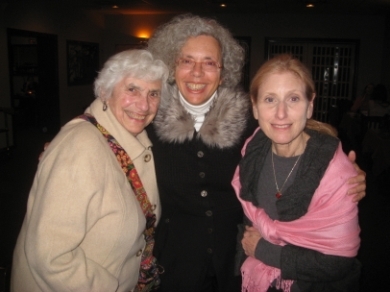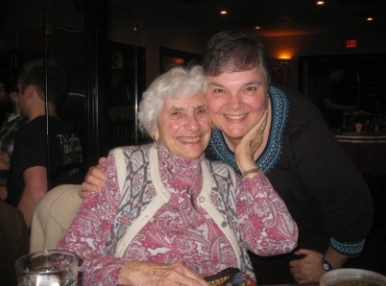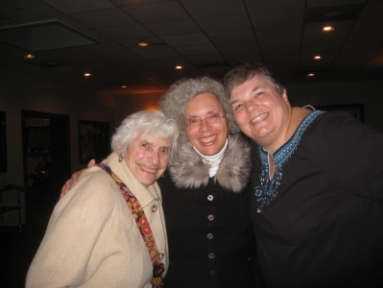 When I was in Richmond two weeks ago I spent a wonderful evening with Carol Maier Matuschek and her Mom, Margo Maier Miller, and Ann Goodman. The four of us gabbed and laughed for three hours! It was great seeing Margo again and catching up with Carol and Ann.
Cheryl Sporn Gross - email 1/19/2012
---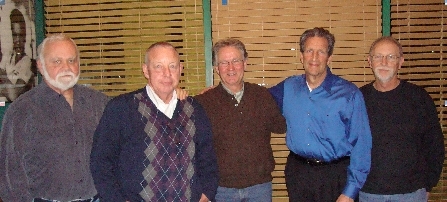 "Those of us who were good friends at Westhampton and TJ as kids still get together from time to time to catch up on what is new and to relieve old stories. In the picture left to right are Howard Schechter, Butch Blanton, John Montgomery, Bart Siegel, Wally Lawrence. Howard, Wally and I are TJ Class of 65 graduates, John and Bart graduated in 1966."
[submitted by Butch Blanton - 01/17/2012]
For the record...
Wally Lawrence, Steve Abbot, Larry Lipsitz, Cheryl Sporn, Carol Mayer, Buddy Jones, Linda King, Bobby Jean Packer, and others that I cannot remember today started school at Westhampton School in February of maybe 1952,1953 or 1954, too far back to remember. There were too many kids attending the available city schools on those days and classes started in September and February. We started in February. By the 5th grade the city decided to eliminate that mixed mess and we had to complete the last half of the 5th grade and all of the sixth grade in one year. I believe all of us made it except maybe one or two. We attended school together for twelve solid years.
About a week ago, Howard Schechter was contacted by Bart Siegel, who was coming to northern VA for business. Bart wanted to see us since he was this close to where we live. We had not seen Bart in 45 years. The last time I saw him, Wally and I helped him paint an apartment on Patterson Ave near Hill School. I was 19!
Howard, Wally and I graduated in 1965. I don't remember what happened but Bart and John slipped a year and graduated in 1966.
Wally, Howard and John are retired. I have merged my business with another similar firm to let the younger boys run it and make decisions. I'm planning on going out this December. Bart said he would go maybe another 1-2 years and then give it up.
Boy did we relieve some good times over the pizzas and beer.
Butch Blanton - email 1/17/2012
---
From: Joe Segal
Sent: Saturday, July 23, 2011 3:26 PM
Subject: Re: TJ Class of 1965 - Sally Talmage Kingsley Memorial Service

Hi Guys,

I did finally find the photo, scanned it, and have attached it here. I'm relatively sure that Sally is sitting in the front, to the left of Mary Jo, both behind the little sign. (PS I'm in the red sweater on Mary Jo's right, not that you couldn't guess.) Sorry I couldn't find it until now.
Joe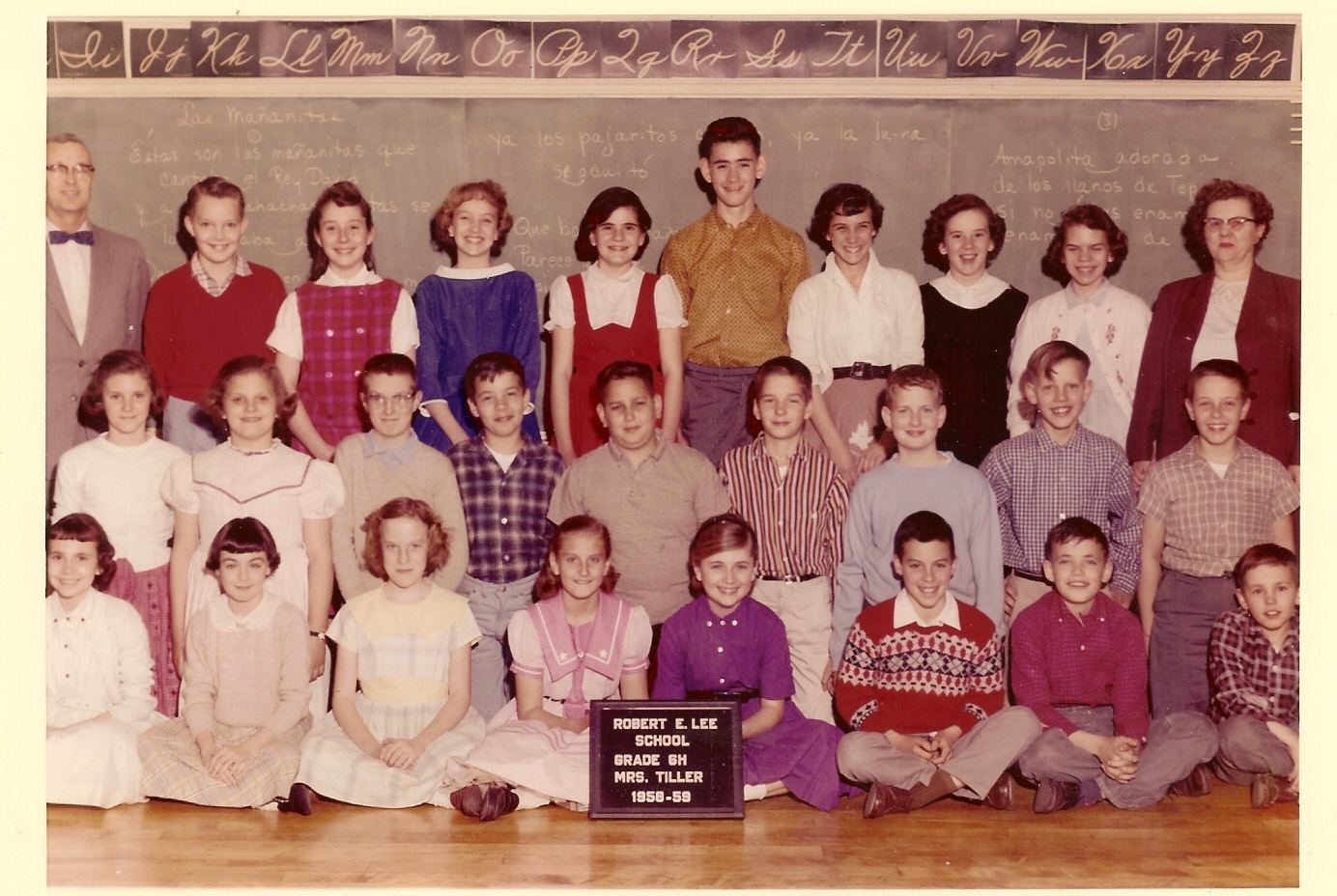 ---
Sent: Saturday, July 23, 2011 10:34 AM
Subject: Pic for Class of '65

Hello. Just thought I might send a pic to Class of '65's web site of my wife Nancy and I from our trip to Italy last year. Pic is in Venice.

Thanks
Steve Green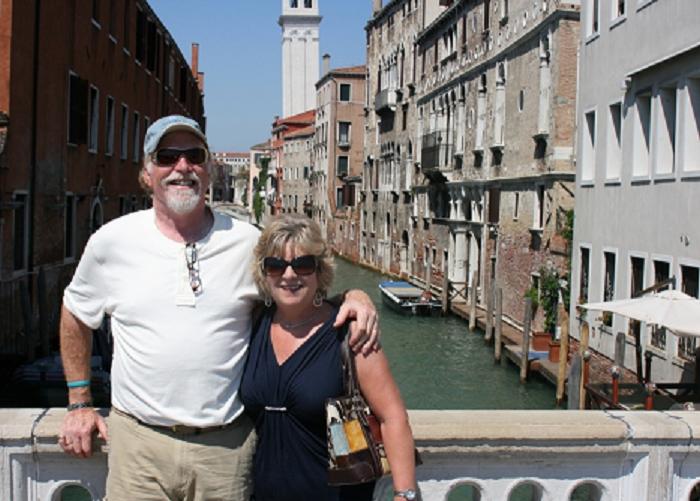 ---
Ronald Shaw Reflects
At the TJ Class of 1965's brunch on Sunday, October 3, 2010, I spoke about Johnny Squire (a fellow Black classmate who is deceased), who encouraged me and other Black students at Maggie L. Walker High School (MLWHS) to test Richmond, VA's "open school enrollment policy" in 1963. Our target high school was Thomas Jefferson High School. There was only one Black student there during the 1962-1963 school year out of a total student body population of approximately 2,000.
...My two years at TJ were very uneventful (a very good thing). Our fellow students treated us with the same respect as any other student. I can't say that we had an active social life there, but we really didn't expect that. Attending TJ was like a job. We attended TJ for an education, and that is what we received (and, after becoming an adult with a wide range of experience and exposure, I discovered how great an education I obtained from TJ)...
Read the whole story in the PDF version ---> Click Here
---
Sent: Thu Dec 02 18:09:37 2010
Subject: RE: Thanks

I sent you the contribution really to say thank you to you and the other volunteers who have put together all the TJ Class of 65 activities and news. I think you al have done an outstanding job. Having reinvigorated a regional chapter of a college alumni organization, I know the type of effort involved, but I also made some new friends in the process of my efforts and I hope you all have found your effort equally rewarding. I'll look forward to future news and activities.

Anonymous Classmate
---
Chas Davidson family - 2010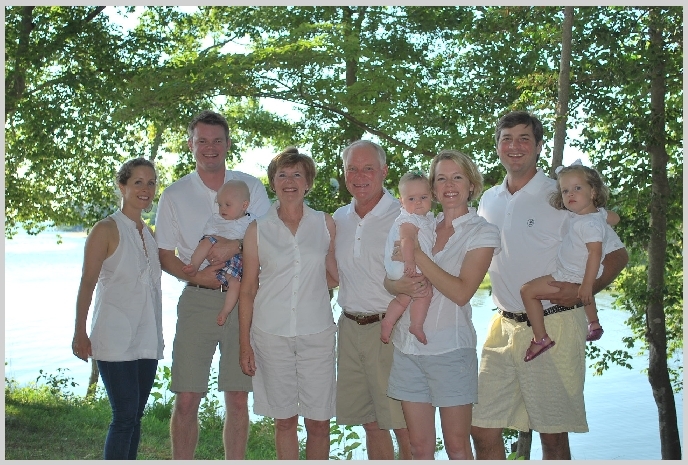 L to R: Daughter-in-law, Carter Davidson; son Matthew Davidson with grandson, Payne; Martha Davidson; Chas Davidson; daughter Becky McNeer with granddaughter Anne Curtis; son-in-Law, Andy McNeer with granddaughter, Ainslie.
---
Ronald Shaw's retirement pictures from April 2010 at the Officer's Club Fort McNair in Washington, DC: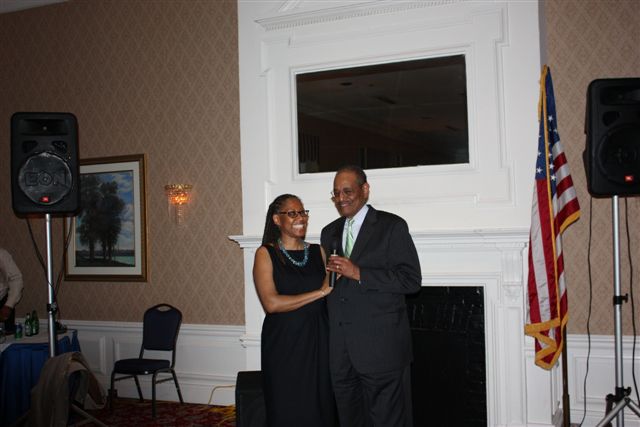 Ronald's wife (Patricia Waddell) and Ronald thanking everyone for attending the party.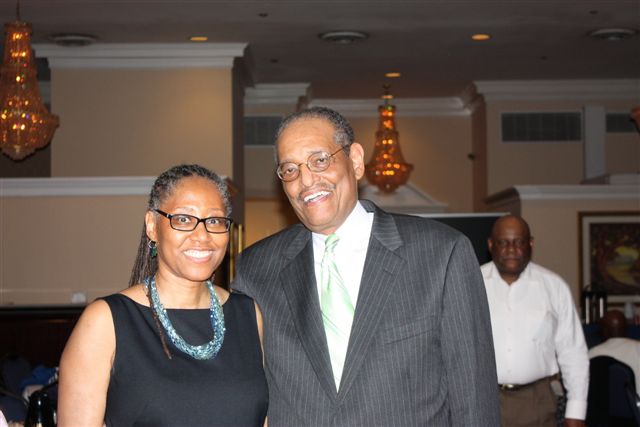 Ronald and his wife at the retirement party.
Ronald's daughter (Izola Shaw) and his Step mother (Anne Molly Shaw) at the party.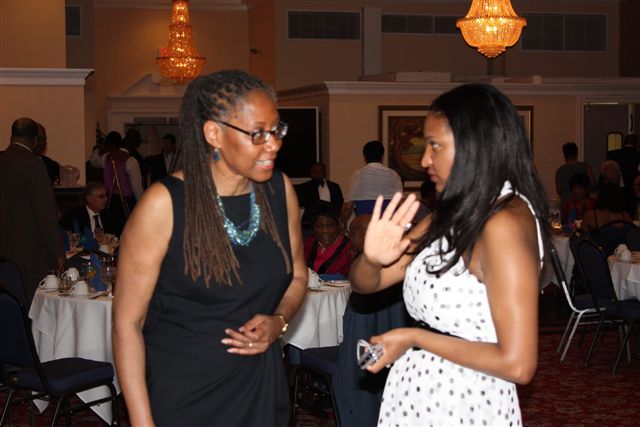 Ronald's wife and daughter discussing party events at the retirement party.
---
Steve Budnick's son, Scott, is the Executive Producer of the hit movie The Hangover. Steve and two friends went to the premiere in Los Angeles on June 2, 2009 and took these pictures: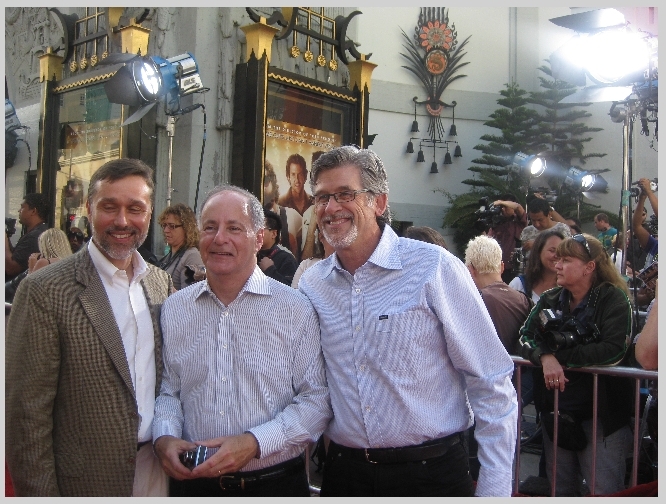 Steve Budnick(middle) and friends at The Hangover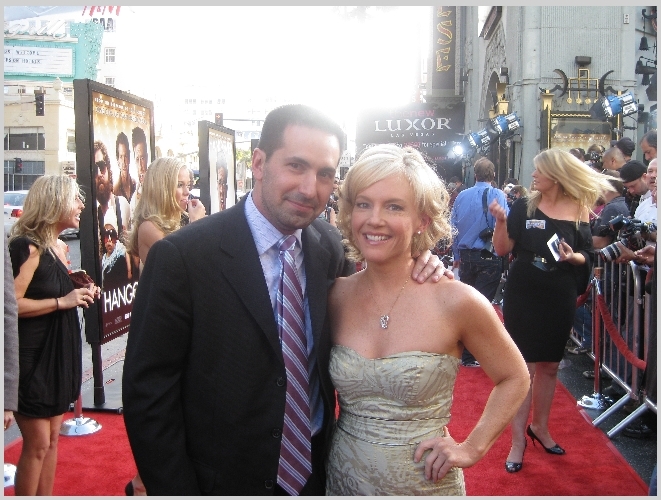 Scott Budnick and Rachael Harris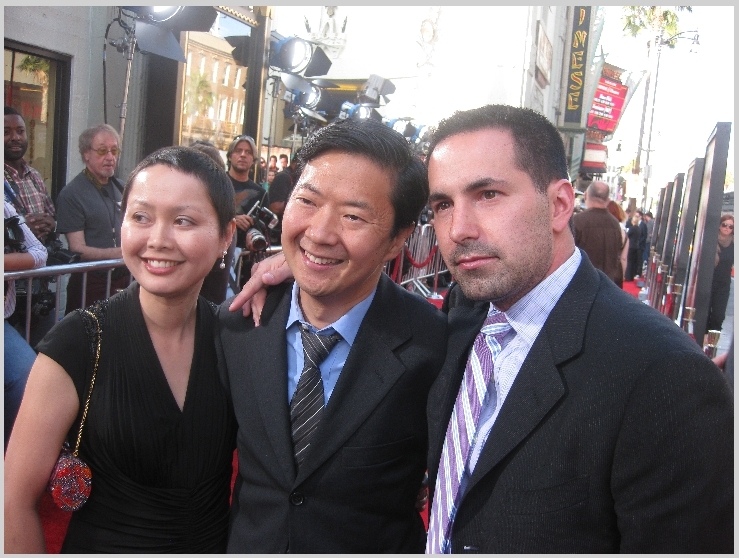 Scott Budnick and Ken Jeong and Ken's wife
---
On May 16th, 2009, Kay (Martin) and Jerry Shapiro were married in their backyard with lots of friends and family. They spent two great weeks in Europe traveling to Paris, Prague, Austria, Switzerland and Germany. Kay said "Wengen Switzerland is absolutely the most spectacular place we have ever been! Jerry loved driving on the autobahns. We also added a beautiful great room, carport and covered patio to our house in Goochland last year and intend to live there happily ever after, it is a rancher!"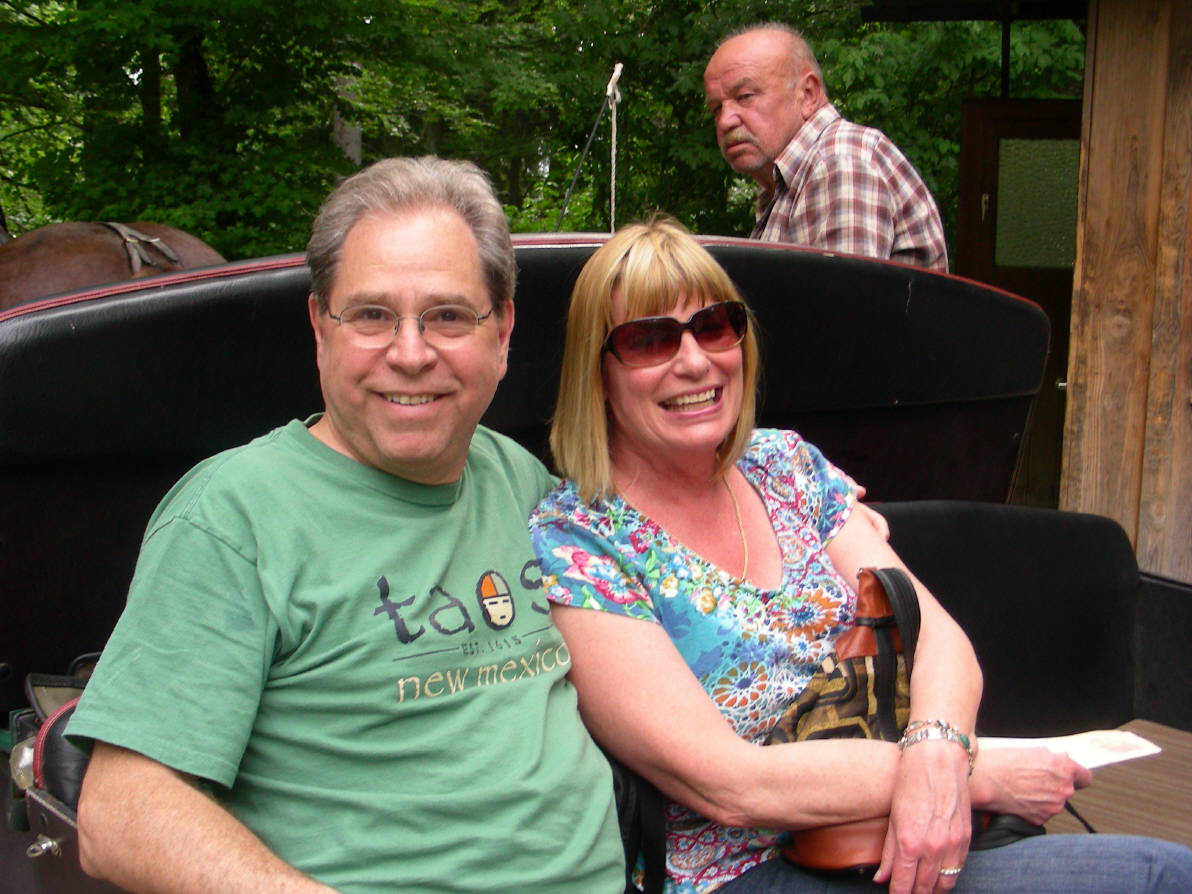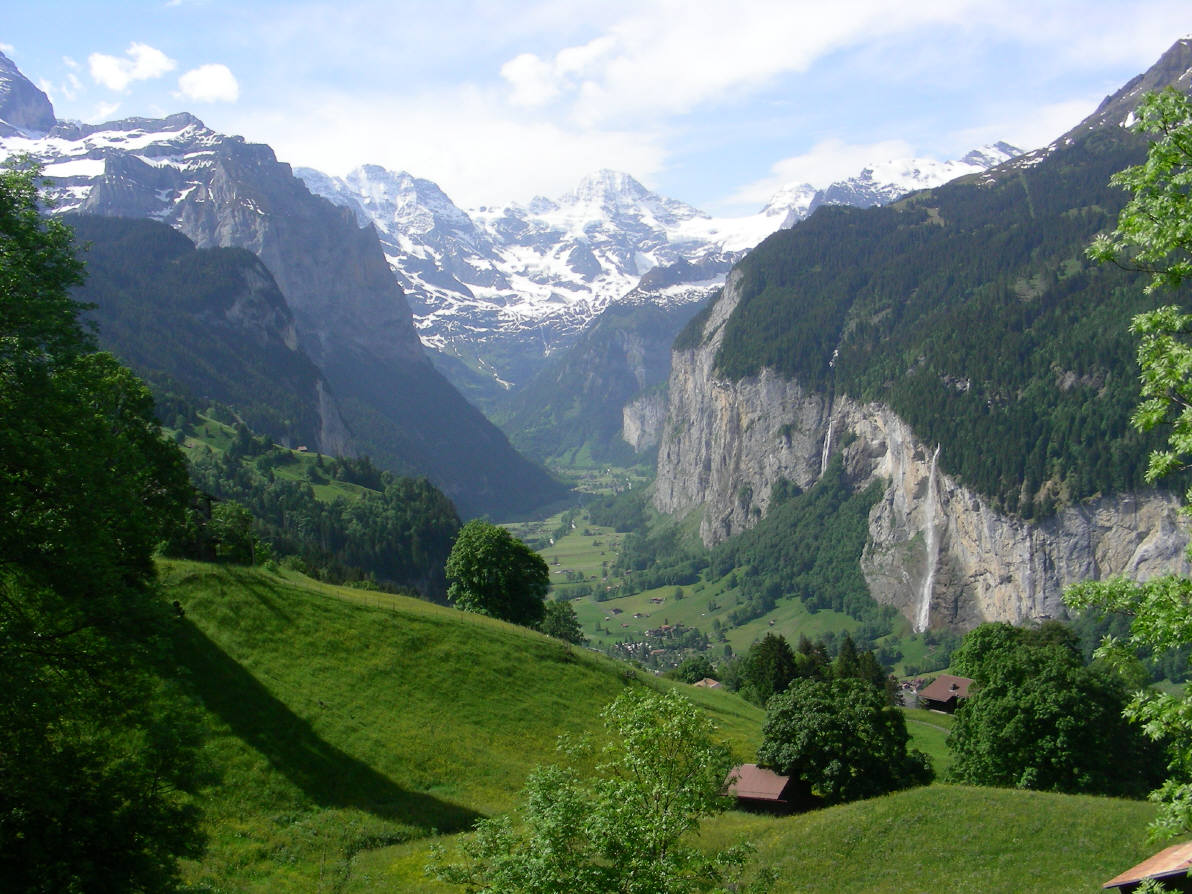 ---
April 13, 2009
Because of our 1965 reunion, the 11 of us have enjoyed a renewed "Joy of Friendship". We continue to gather every month or so to reminisce about high school days and share our lives today. Laughter and tomfoolery are an integral part of our group. Attached are three photos we'd like to share.
Our annual 3-day gathering at Marvine's farm in Clifton, Virginia.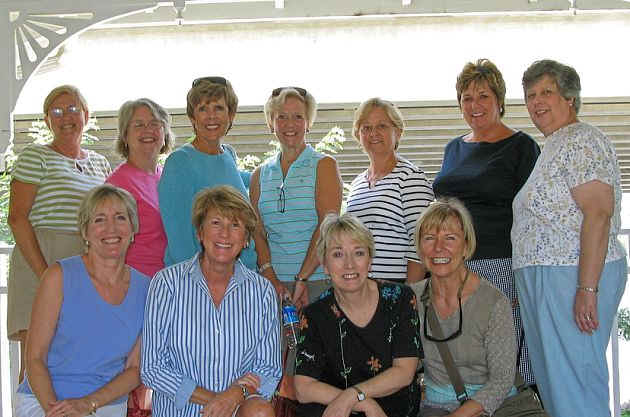 Fran Sheffield Bailey, Laura Young Baskerville, Linda Mopsy Morris, Mary Ellen Navas, Marvine Weeks Michael, Angier Brock, Laura Haas Childress, Susan Foster Stanley, Linda Jenkins Winslow, Kathy Mapp Waugaman and Betty Timberlake Mennetti
The Bunnyhop: Myra Steinberg's "Imagine" production at UofR. We surprised her with our hats!!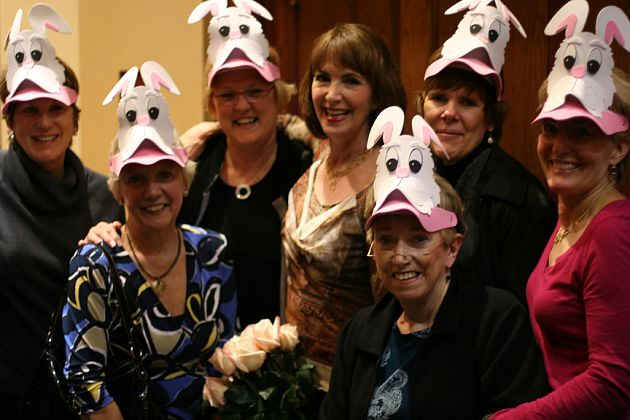 The Tea Party: High tea at Angier Brock's home in Yorktown complete with hats, pearls and gloves!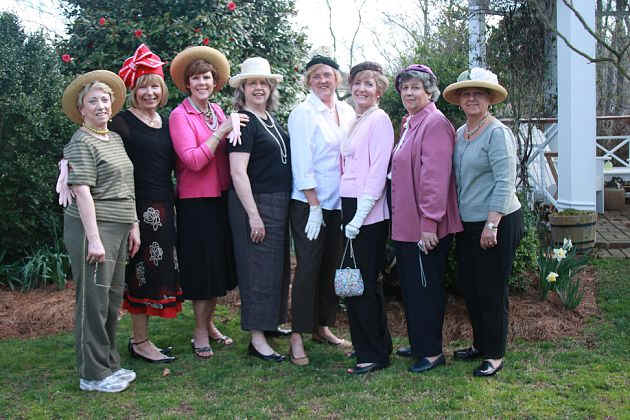 ---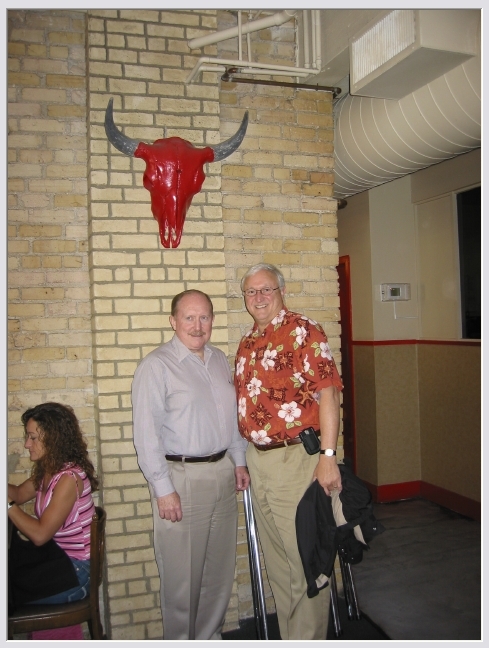 John Overton and John Schwartz exchanged memories at Hell's Kitchen in Minneapolis (7/2007)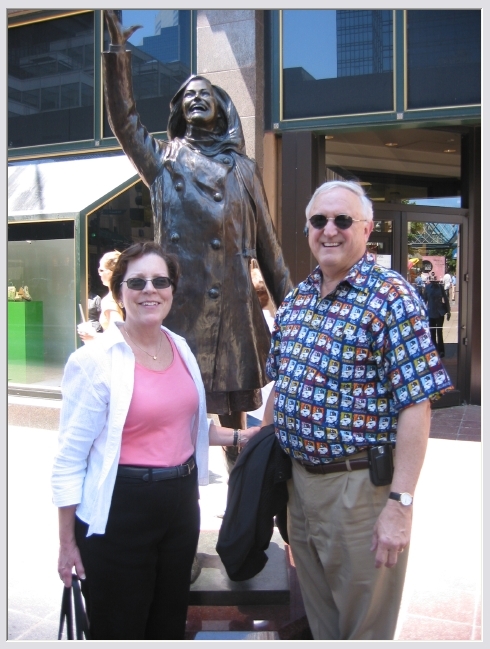 Gail and John Schwartz at Mary Tyler Moore statue (7/2007)
---
April 29, 2007
Many thanks to you both for all the hard work for the weekend. Another success! I just personally want to thank you and all the others (you may pass this email on to them) for all the labor and love you all have put into planning these events.

I have been involved myself from time to time with church programs/weekend events and so I know a little of what is required. Actually Peter and I met Buddy Childress (20 years ago! Oh, my!) when he did a singles retreat for us (Peter and I were part of the planning group).

So, again, thanks and a big hug to each of you for all your efforts....

Keep in touch.

Sally K.
[SALLY TALMAGE KINGSLEY]
---
01/27/07
This is Nancy Leed Clary,
I was so sorry to hear about Steve Green's wife. We are getting to a great age, but a more fragile time in our lives. Sometimes I think I am still the same age, I just don't see the changes. Then when I think of "bopping" like Sadie Hawkins, I end up "flopping" after a much shorter time. It just takes so long to become wise, I just don't think I'm going to ever get there! O well, I've learned that watching the skies with their lovely colors at sunset is so much better than watching the news. I would say that makes a good start to wisdom. Seeing all the fashions of today makes me feel really good about my mini skirts! Sixty has been a mile stone… it use to be sooooo old and now eighty is old, I'm really looking forward to retirement so that I can scrap book all I want and not feel guilty about it !! It may take me a little longer since I have a 16 year old at home with 2 more years of high school. But hopefully I will feel just as young then as I still do now.
HAPPY BIRTHDAY to all of my class mates. My Birthday was August 5th.
Thanks for keeping me up on everyone, good news I can rejoice with them, bad news ……… I pray.
Nancy
---
01/26/07
Bob Blinn wrote:
John, Spread the word!!! In June, my PCP(Primary Care provider) told me I needed to get a colonoscopy. I had never had one. I put it off until I finally got around to it in November. I discovered I have Stage I Colon Cancer. I go into the hospital(the VA hospital which turns out to be FREE) on Tuesday and operated on on Wednesday. I will be sore and uncomfortable for a few months. But, I will be cured. Life will be mildly modified but only mildly. Stage 0 and stage 1 are very easily treatable. Stages 2,3 and 4 are more problamatic, but still very treatable. We are all the same age. So, please pass this along to all our friends. The memories page is long enough.
Bob
(for more information on cancer, click here to be redirected to the American Cancer Society website)
---
01/23/07
Elly Robinson sent in these pictures"
(also, see news article at http://www.tjclassof1965.com/News/News_articles.htm)
I was fortunate to fish during the great weather in December and early January and get in on the action at the Concrete Ships and off Smith Island. Attached are a few pics - one is of a 39 lb Striper I caught on 4# test line that was 1lb 8oz off the world record. Another is of a 25lb 12 oz Almaco Jack that I caught on 6# test line which has been certified as the world record and another pic of an African Pompano I caught on 6# test in 135 ft of water on the Tarpon Wreck off Hatteras. I also included a pic of a 29 lb Cuda I caught on 6# spinning tackle over a wreck off Hatteras.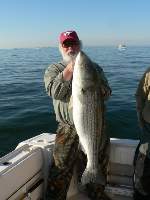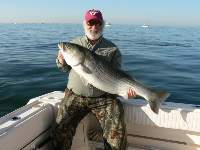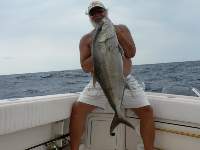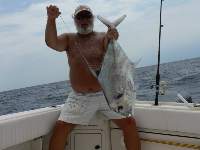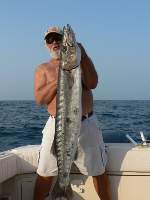 ---
Since they put up such a nice picture I thought perhaps you would like to see us in one of our choirs in New York, The Zamir Chorale. Bill is third from the right in 2nd row; Cheryl is 2nd from the right in first row. In case just seeing us is not enough, and you'd like to hear us as well, come up to NYC and we'd love to see/feel you at the concert!!! Details on the flyer.
Enjoy and Happy Holidays!
Cheryl & Bill Gross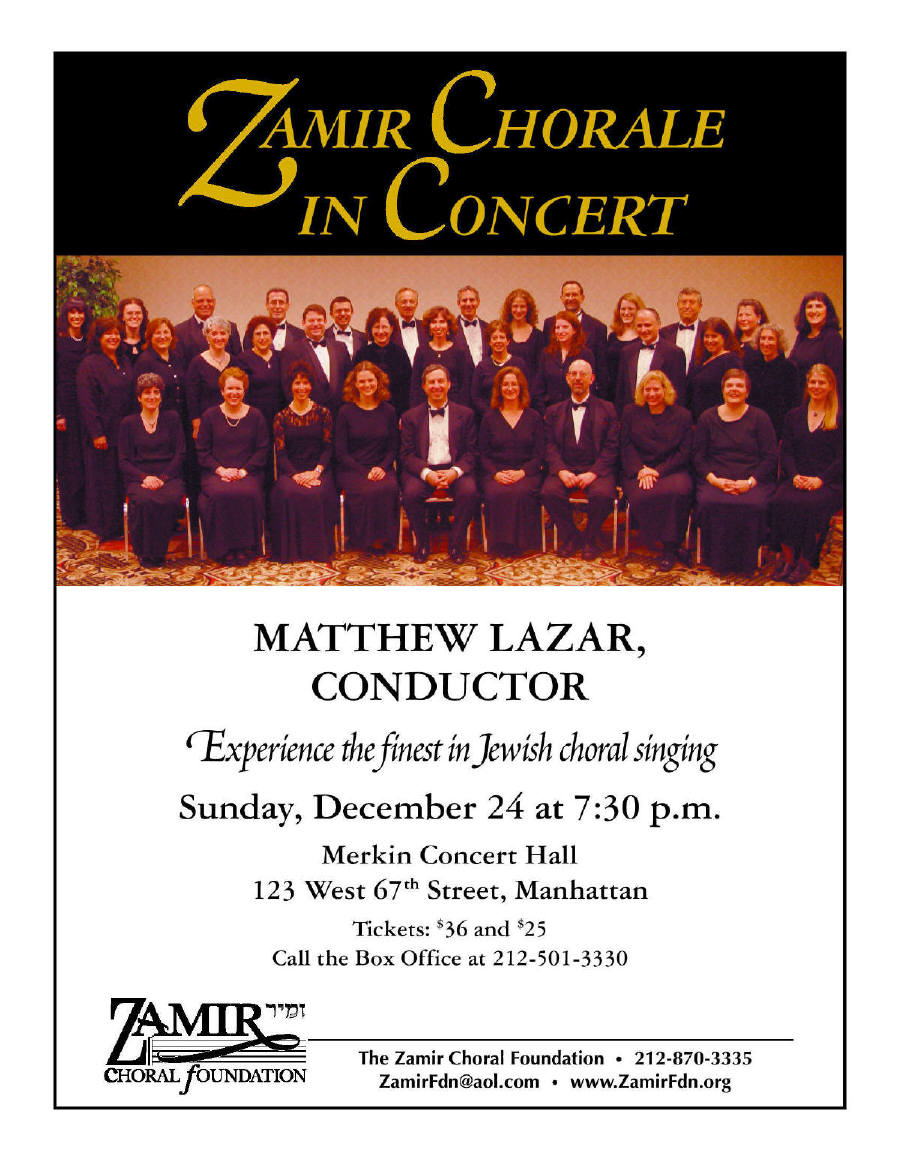 ---
---
Journey of a mad man
- "40th Reunion Chairman" -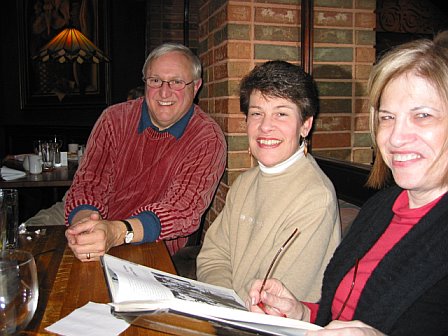 John Schwartz visited with Nancy Grey Chandler Stetson and Susan Mintzer Davidoff in Atlanta to share the Memories Package.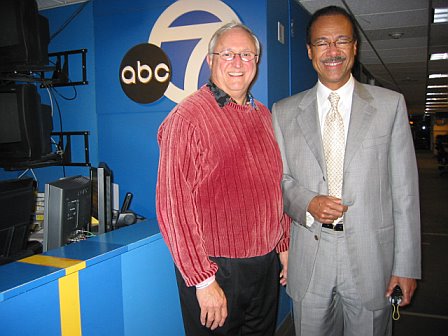 John Schwartz met with ABC weather man Spencer Christian (from Charles City, VA and WWBT-12 in Richmond) to find out the weather future for the next weekend celebration.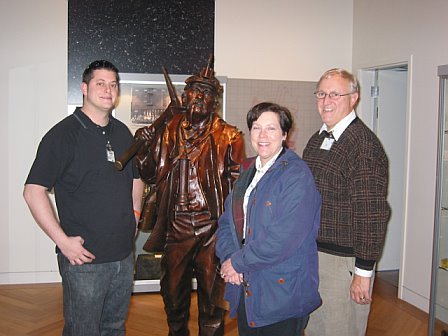 John Schwartz, Gail, and their son Myles at the Brinks Museum in Chicago getting advice on protection from the Brinks founder for the next reunion.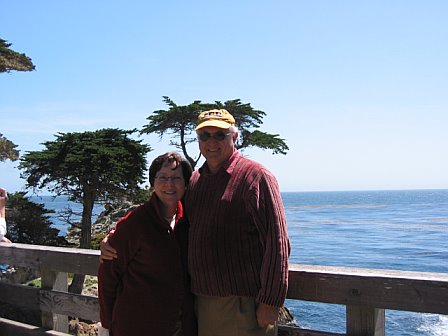 John Schwartz and wife, Gail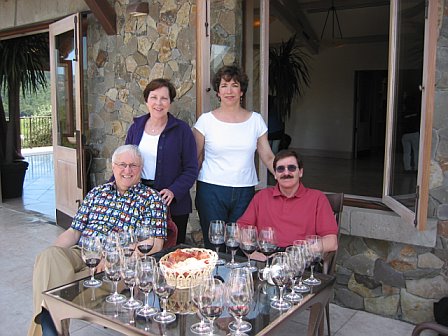 John Schwartz in "Wine Country" with wife, Gail, and Gail Rothenberg Lewis (TJ Class of 66) and her husband, Joel Lewis. John was advising Gail Lewis on the class of '66 plans over wonderful Sonoma, CA wines.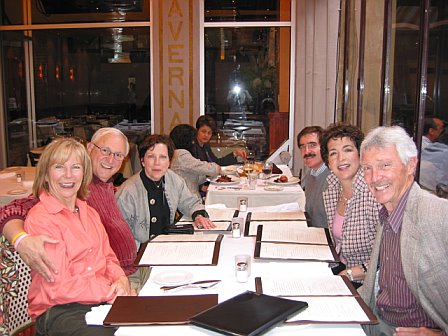 John Schwartz (2nd on left) and wife,Gail (3rd on left), at dinner with Mary Ellen Navas (1st on left) and husband, Bob Archibald (1st on right) at Belden Alley in San Francisco. Joining them were Gail Rothenberg Lewis (TJ Class of 66) and her husband, Joel Lewis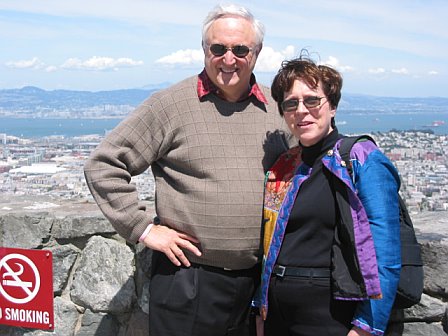 John Schwartz and wife, Gail, somewhere in a non-smoking area (could it be CA?)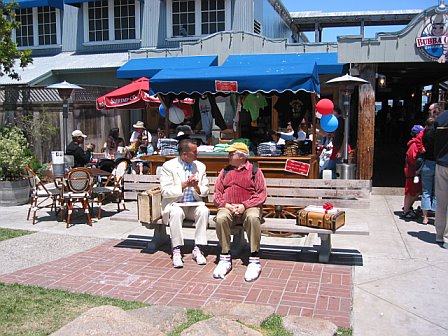 John Schwartz (on the right!) meeting with Forest Gump in Monterey, CA to ask the meaning of life after the reunion.
---
---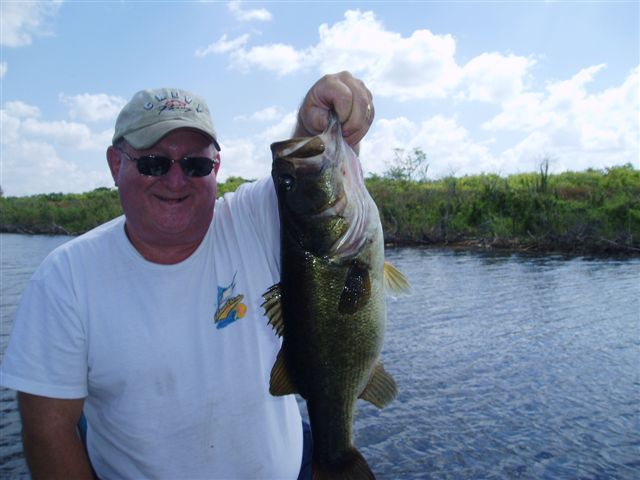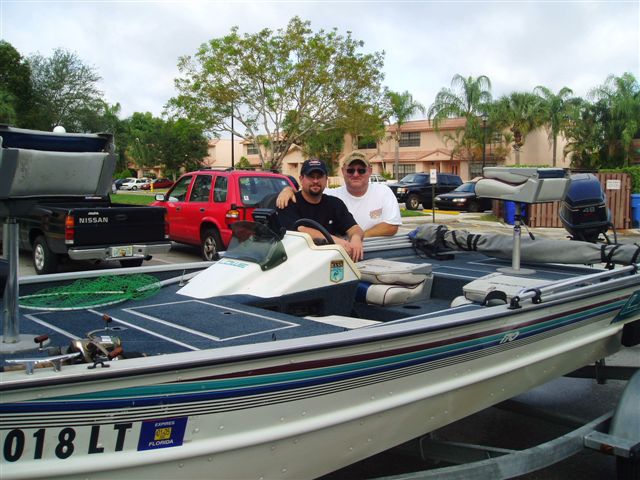 (1) Larry Lipsitz - Fishing in the Everglades
(2) Larry Lipsitz (right) and son, Jason (left)
---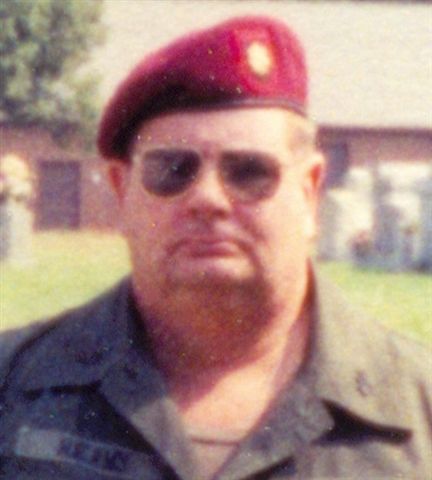 Ronnie Reams in 2001
---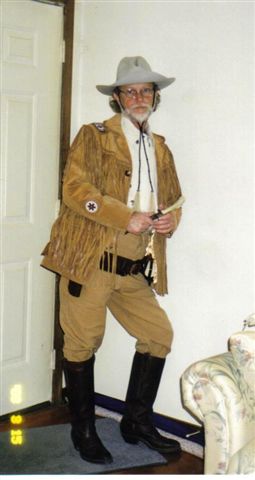 SweetTooth Wally Lawrence, the roughest toughest biscuit eat'n, donut dunking, M&M chomping hombre to ever ride thru Shoneys or Bill's
---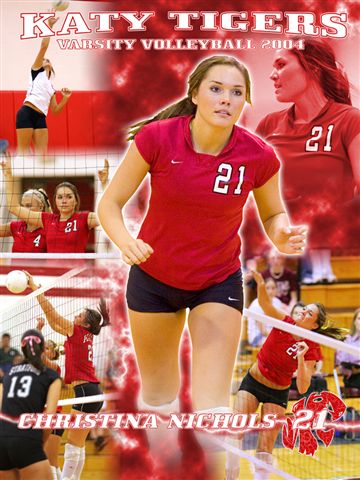 She's 16 years old, 6 ft. 1 in., a rising senior at Katy High School (just outside Houston, Texas) and is headed to the Junior Olympic Volleyball championship tournament in Salt Lake City in July 2005. Her team -- Texas Tornados 17 Kara -- was one of 48 to qualify...Could Christina really be related to Everett Campbell?
---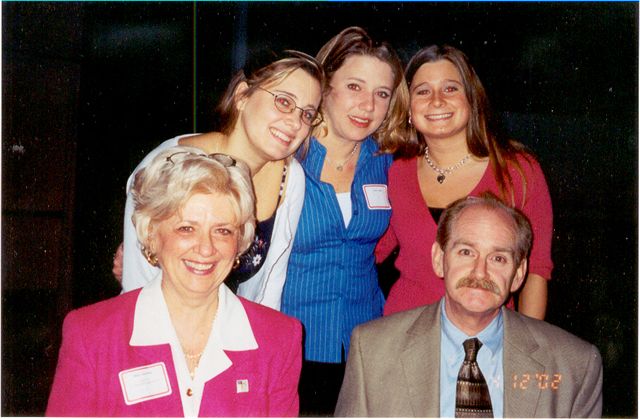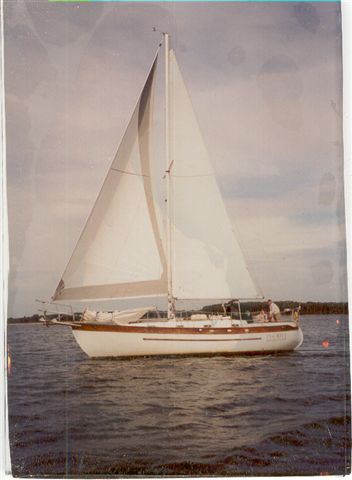 Mary Jo Wright Atterholt Family ~ 2002 (L to R - Mary Jo, Ashby, Carter, Sarah, Jerry) and "Priority"
---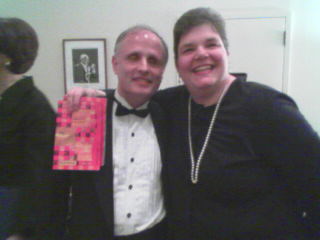 Bill & Cheryl Sporn Gross backstage at Carnegie on 06/16/2005! They were singing in a benefit concert for the Folksbiene Yiddish Theatre with their choir, The New Yiddish Chorale, conducted by Zalmen Mlotek. Mandy Patinkin sang Yiddish songs from his CD, Mammaloshen, for the 2nd half of the concert. Last year they also performed at Carnegie in a similar program. NEIL SEDAKA was the headliner that year. Along with some Yiddish songs, their Chorale performed back-up to Neil's "Breaking Up Is Hard To Do."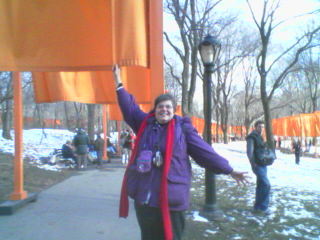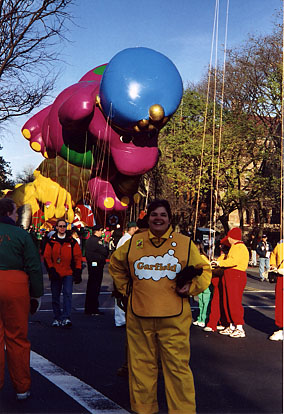 (1) Cheryl Sporn Gross at THE GATES in CENTRAL PARK - February 2005
(2) Cheryl as a "balloonatic" in the Macy's Parade on Thanksgiving Day, 2003.
---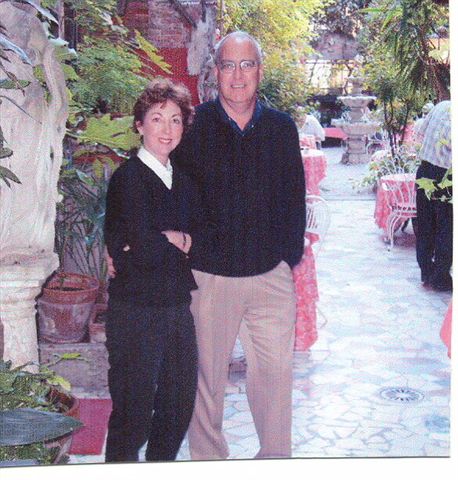 Mary Proctor Babbitt and husband (Terry) in Venice ~ 2004
---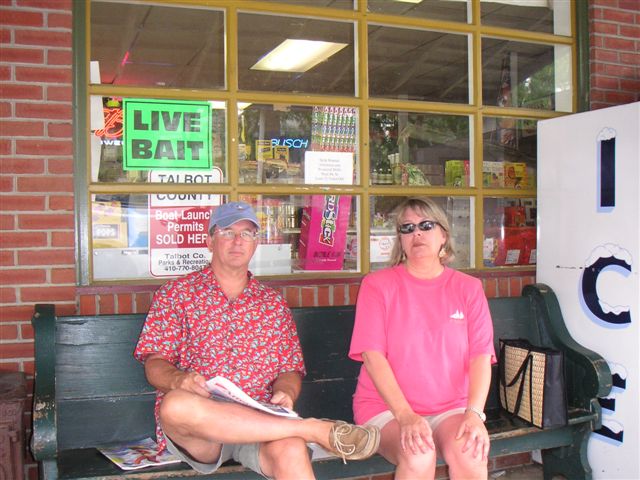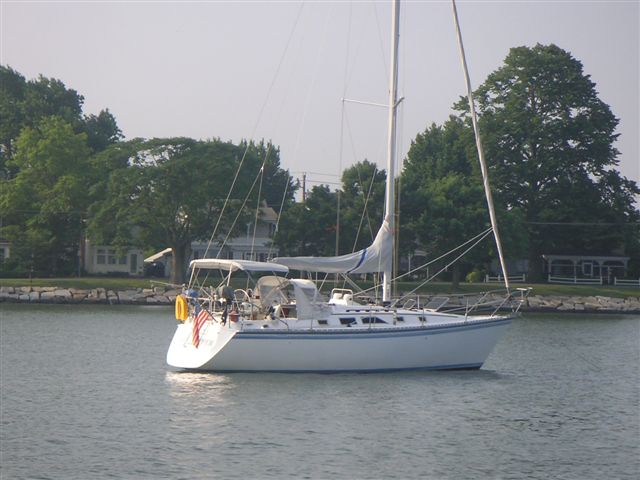 Mary Lynn and Charles Douglass at The Oxford Market (Oxford, MD - Eastern Shore) - June 2004 - during a sailing vacation on the Chesapeake Bay aboard "Bay Tripper."
---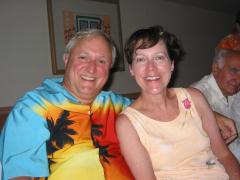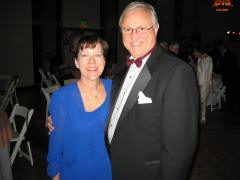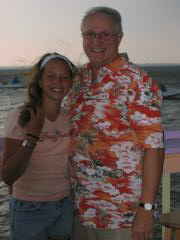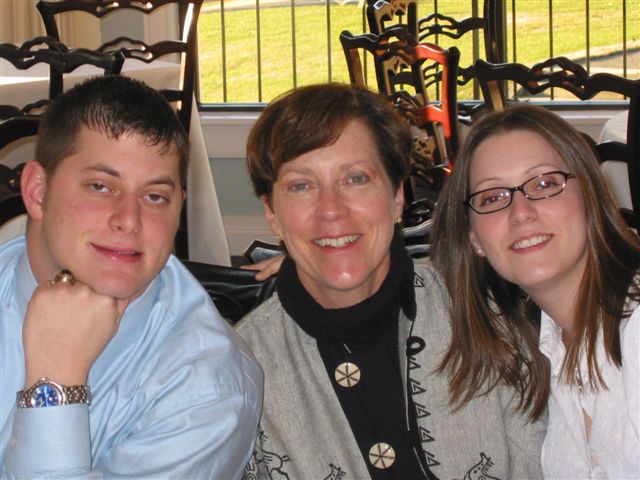 (1) John Jay Schwartz and Gail celebrating their 30th anniversary in St. Thomas - 2002
(2) John and Gail dressed up for their 33rd anniversary - 2005
(3) John and youngest daughter, Mallory, in Duck, NC
(4) The women in John's life: daughters, Meredith and Mallory, and wife, Gail
(Not pictured: John and Gail's son, Myles)
(5) Myles (son), Gail (wife), and Meredith (daughter) - around 2003
---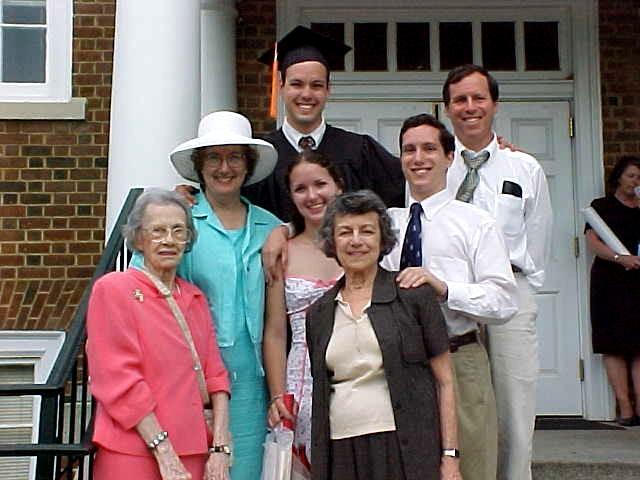 Joe Segal family at UVA Graduation in 2004. (#2 son Jeff is the grad.). From l-r, and top row to bottom, son Jeff, Joe; wife Winfree Ann, daughter Emily, older son Ben; mother-in-law Shirley Hughes, & mother Muriel
---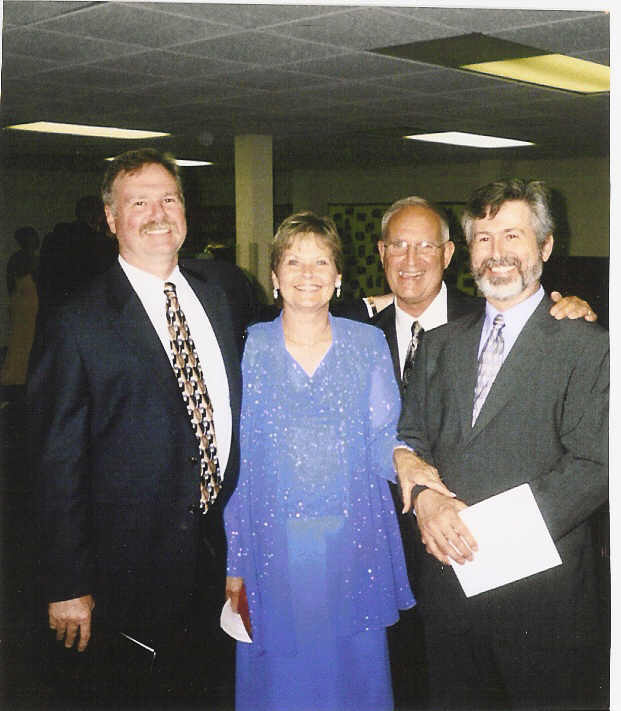 Judie Reed and her "best buds" at her niece's wedding in 2004
---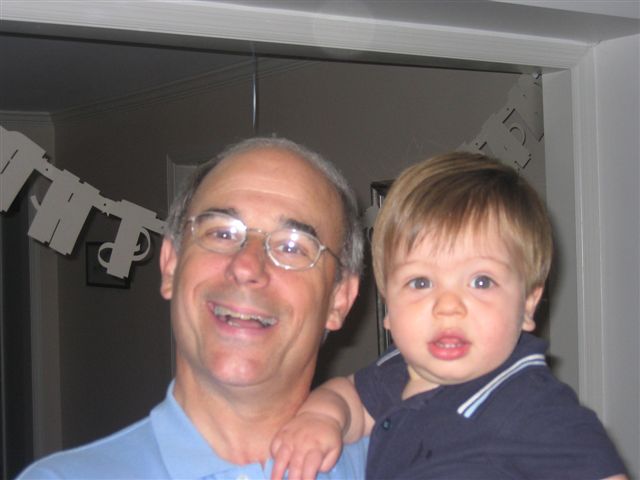 Michael Mandel with grandson Noah. Mike is practicing internal medicine at St. Mary's [Richmond]. Noah lives in Atlanta - June 2005
---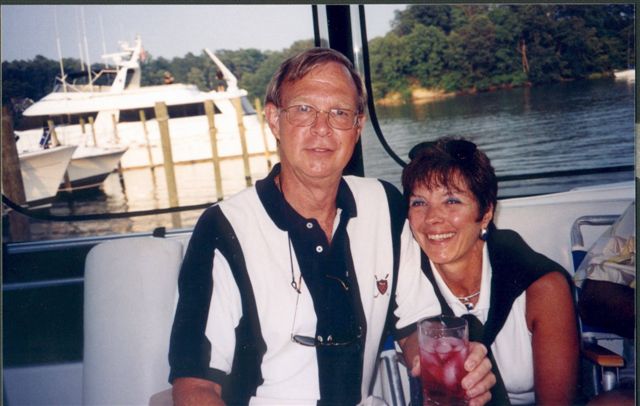 Wayne Blake and Linda were married on August 10, 1985. What a classmate! He and Linda came to our 20th reunion straight from their wedding. This picture was taken 19 years later in 2004 at the Tides Inn.
---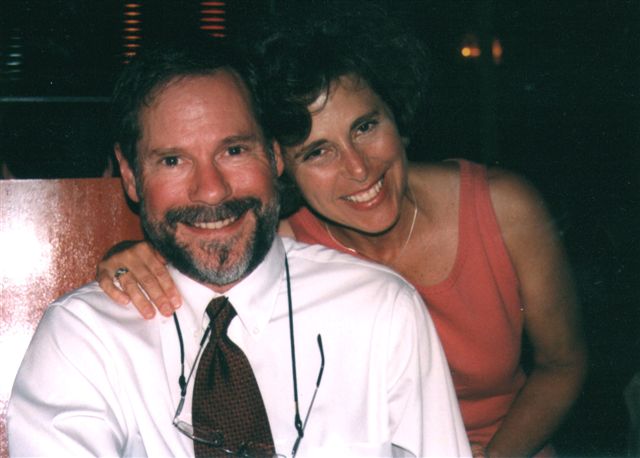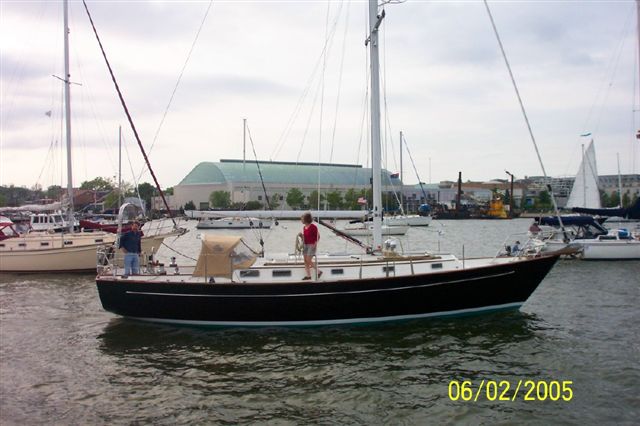 (1) Classmates Jack Greer and Bobbie Packer Greer at work in San Francisco ~2003/2004
(2) Taking delivery of "Moonshine" in Annapolis - where Jack and Bobbie spend as much time as possible (they live in Maryland)
---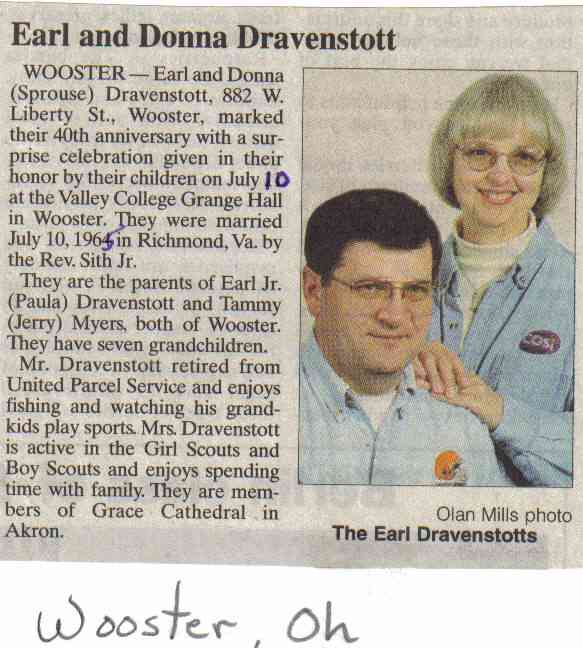 Earl and Donna Sprouse Dravenstott, living in Ohio, recently celebrated 40 years of marriage!
---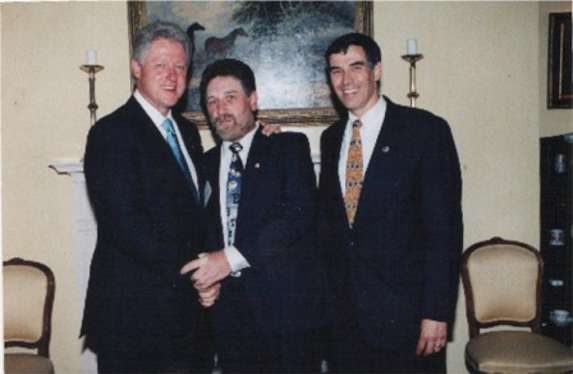 Mark Barth (middle), Bill Clinton (left), and Congressman Rush Holt (right)
---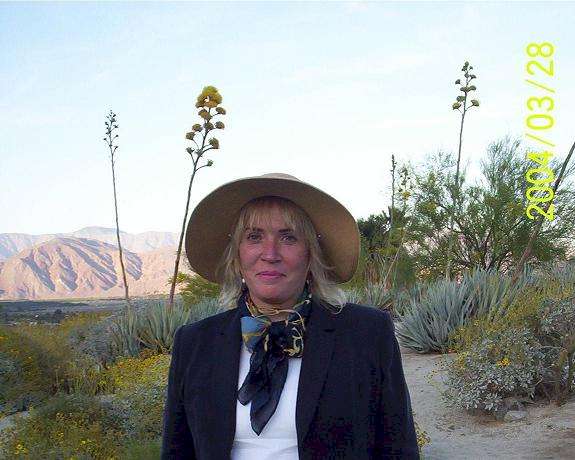 "Rowena wilting in weird hat."
Rowena Hitt St.Moritz on a spontaneous afternoon trip to Borrego Springs, CA. She was melting in her church clothes in the desert heat and had to purchase a hat at an outdoor market to keep from baking her blonde head.
---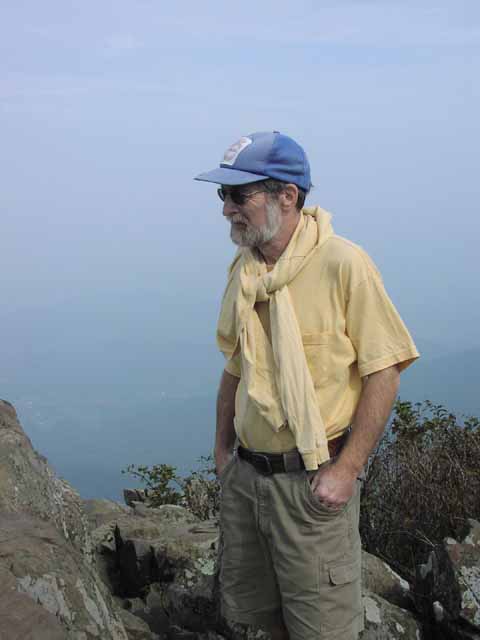 Phil Pollack, Skyline Drive, 2004
---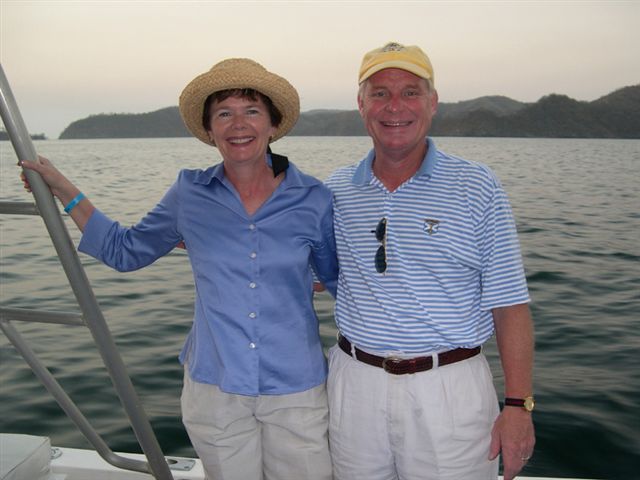 Chas Davidson and Martha Reynolds Davidson (Class of '66) Costa Rica 2003
---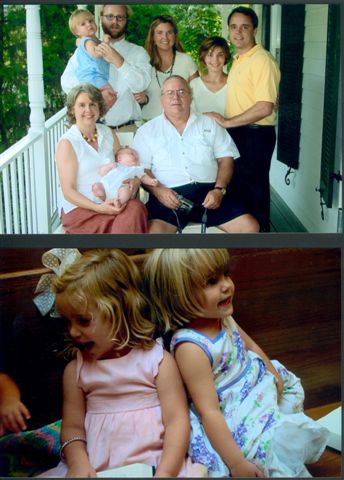 Angie Brock Caudle and her family: standing – Rob (holding Henry) and Jenny Caudle, Leanne and Will Caudle. Seated – Angie (holding Lucy) and Bobby Caudle. Granddaughters Lida and Jane Angier.
---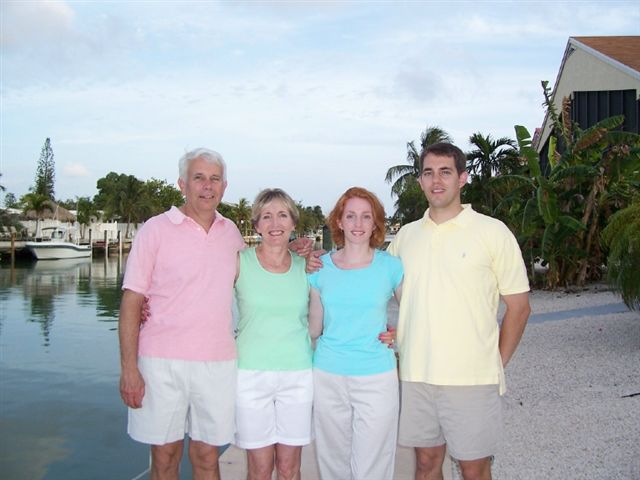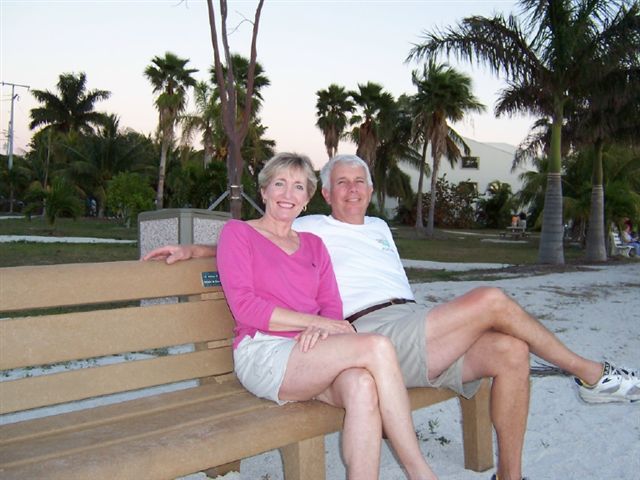 Top Picture: Nonie Bailey and Fran Sheffield Bailey with children, Ann and Nonie Jr., June 2005
Bottom Picture: After 40 years, they're still vacationing in the Florida Keys
---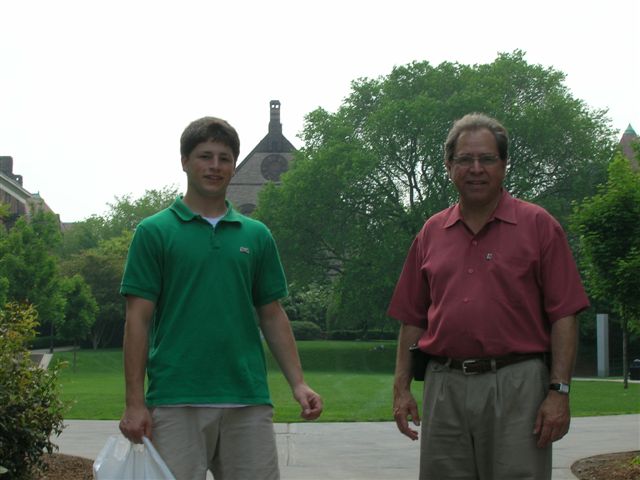 Jerry Shapiro [right] and son,Troy, looking at Brown University ( his # 1 choice for college ).
---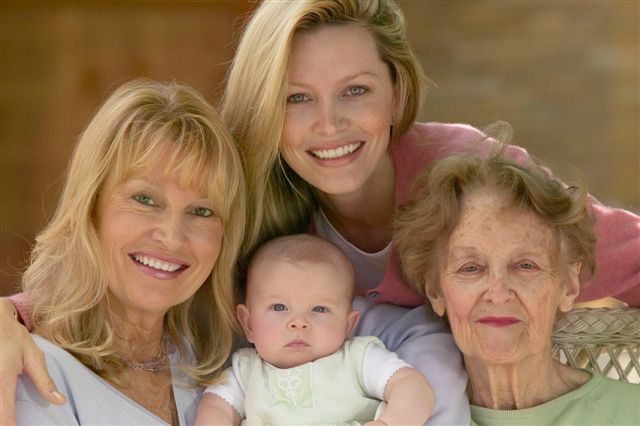 "Four Generations" – Beverly Glaspie Montsinger, left, daughter Shannon, top, mother, Dorothy, right and Baby Madelyn center.
---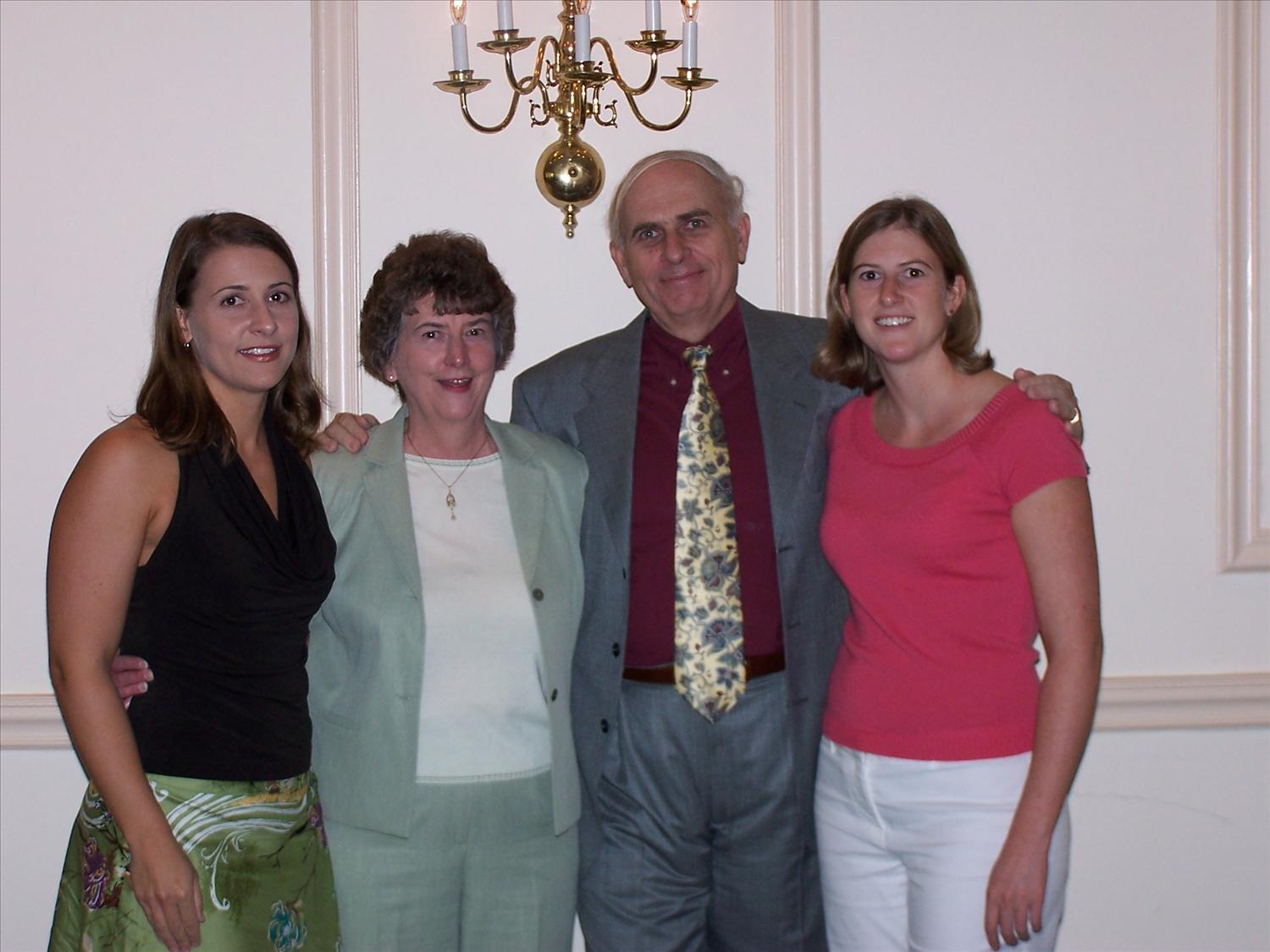 Sandy Jones Kerr family - Cindy, Sandy, Bruce, and Leah
---

Copyright © 2005 [TJ Class of 1965]. All rights reserved.