Click Here to Return to Home Page
In the News
Larry Creeger - Class of 1965
Richmond Times Dispatch - 11/09/2021
'The only thing that kept us in business': Richmond-area venues receive up to $22 million from grant program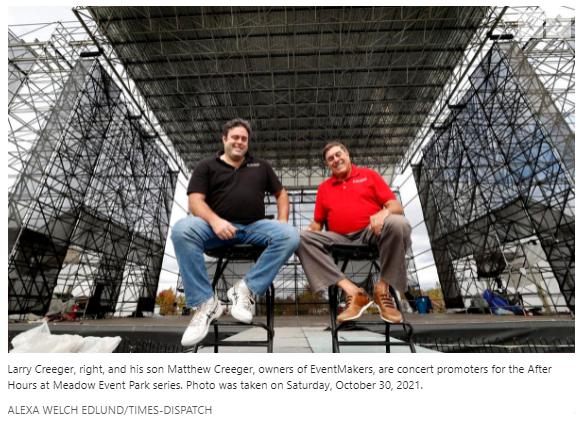 When the pandemic hit, EventMakers had to cancel its entire concert season at Innsbrook After Hours.

"We had no revenue whatsoever in 2020," Larry Creeger, president of EventMakers, said. "We had quite a few lease agreements that had to be paid. Paying out $15,000 to $50,000 a month adds up in a hurry. Especially with no money coming in."

Many local venues – from music halls like The Broadberry to movie theaters like the Byrd Theatre – were in a similar boat.

In December of last year, Congress passed a $16 billion program called the Shuttered Venue Operators Grant to help those type of entertainment venues.

Since applications opened in April, $179 million has been awarded to 280 shuttered venues in Virginia, according to the latest report. Some Richmond-area venues have received as much as $4 million to as little as $5,000. In total, $22 million has gone to Richmond-area venues so far.

EventMakers USA received $2.57 million from the program, one of the largest grants for shuttered music venue operators in the Richmond area. EventMakers left their location at Innsbrook and started a new series at Meadow Event Park this year.

"The only thing that kept us in business was the grant money," Creeger said. "It cost us $750,000 to get from 2019 to 2021. I don't know what we would have done without the grant."
---
Phil Pollack - TJ Class of 1965
At 71, Chesterfield's Frisbee champ enters the Hall of Fame
BY BEN ORCUTT CONTRIBUTING WRITER
Chesterfield Observer - October 31, 2018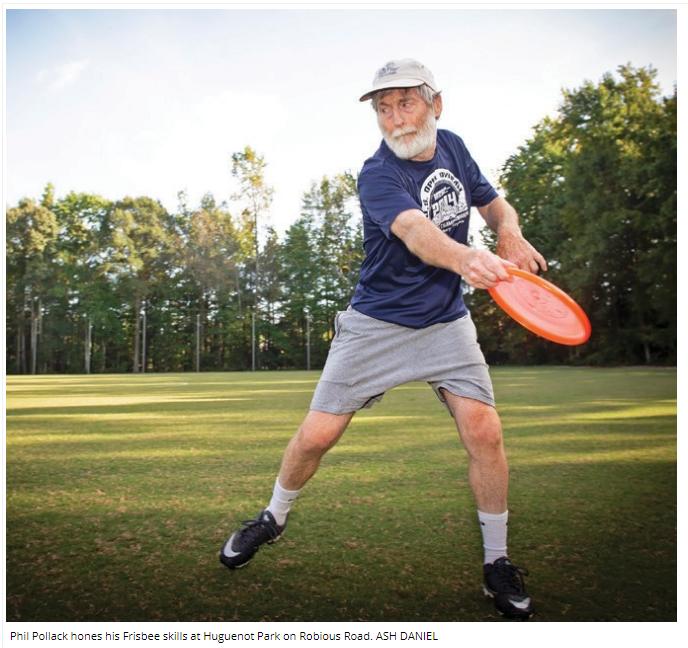 Watching Phil Pollack throw a Frisbee disc into the air – then follow its flight to catch it inches before it lands – is like watching a major league pitcher paint the plate with a curveball.
For Pollack, life doesn't get much better.
"That's right," he said. "Nothing better."
If the weather's decent, it's not unusual to find 71-year-old Pollack tossing a bagful of discs on a soccer field at Huguenot Park, a short distance from the Chesterfield home he shares with Jeannie, his wife of 29 years.
In April, Pollack was inducted into the Virginia Frisbee Hall of Fame as a member of its second class of inductees. Pollack is one of just five inductees this year, and the only one from the Richmond area.
Each inductee received a special disc with the 2018 members' names on it and the chance to give an acceptance speech at this year's state tournament.
"Your name was selected for induction on 100 percent of the ballots cast," Eric Olsen, a member of the hall of fame's board of directors, wrote Pollack in his induction letter.
A retired computer programmer and analyst who also taught math as an assistant instructor at John Tyler Community College for 12 years, Pollack first tossed a Frisbee in the summer of 1965 following his graduation from Thomas Jefferson High School in Richmond.
Prior to heading to Cornell University that fall, Pollack served as a counselor at Camp White Mountain in West Virginia. Ed Lee, another counselor, was tossing a Frisbee one day as Pollack walked by.
"Why don't you join us?" Lee asked.
Pollack said, "No, I'm not very good at that kind of thing."
His response: "If you're going to Cornell, you better learn how to play Frisbee."
"And so I started playing," said Pollack, who's been at it ever since. "Ed Lee, wherever you are, thank you."
Pollack honed his disc skills at Cornell, where he earned an undergraduate degree in math in 1969. That fall, Pollack went on to attend the University of Wisconsin at Madison, where he got a masters degree in computer science, and continued to toss a Frisbee at the main quadrangle on the Wisconsin campus.
"It's a hill, and I threw uphill for two years and that's good for your game," he said.
During his 53-year Frisbee career, Pollack has won MTA – Maximum Time Aloft – state titles in North Carolina and Maryland in 1985, and in Virginia in 1986.
In MTA competitions, players are timed as they toss the disc as far as they can, then run and catch it before it hits the ground.
Pollack held the world record – 12.69 seconds – in the 35 and over masters division in the MTA category for 15 months in the 1980s. He's one of only two people who have competed in every Virginia state tournament, which started in 1977.
He also competes in disc golf, where competitors aim for targets on an 18-hole course, and has competed in Ultimate Frisbee, which is played similarly to soccer. But, he says, MTA competitions are his favorite, with success depending on one's ability to judge the wind and the flight of the disc and knowing where to run to make the catch just before the disc hits the ground.
Frisbee is a game for all shapes and sizes, says Pollack, who's 5 feet 7 inches tall and 143 pounds.
Also, there's "something magical" about throwing a plastic disc, Pollack says. "Everybody's played catch when they're growing up and you're throwing a projectile," he said. "A Frisbee's flying."
Pollack has helped cultivate other players, including Jack Cooksey of Richmond.
A journalist, Cooksey currently works as a freelance editor and writer for several Richmond-area publications, including the Observer. Cooksey has been tapped to host the World Flying Disc Federation's world championships in Richmond next year.
"I started playing with Jack when he was 12," Pollack says of the 52-year-old Cooksey, also a former state champion.
"Frisbee is really a lifelong activity," Cooksey said in an email. "Phil is an example of what I hope to be, a guy who is still throwing Frisbee in his 70s.
"I was really lucky meeting Phil and having him as something of a mentor in the sport. [Phil] taught me more than the sport, he also gave me some lessons in character and principle along the way.
"He also is a lovable goofball, which is part of the personality of disc sports. It is a great mosaic of people and Phil definitely has his place."
---
Dr. Michael Mandel - TJ Class of 1965
"Older workers get flexible hours, work-at-home options to keep them from retirement"
After 36 hectic years as a primary care physician, Michael Mandel was looking forward to a laid-back retirement crammed with lots of golf and volunteering...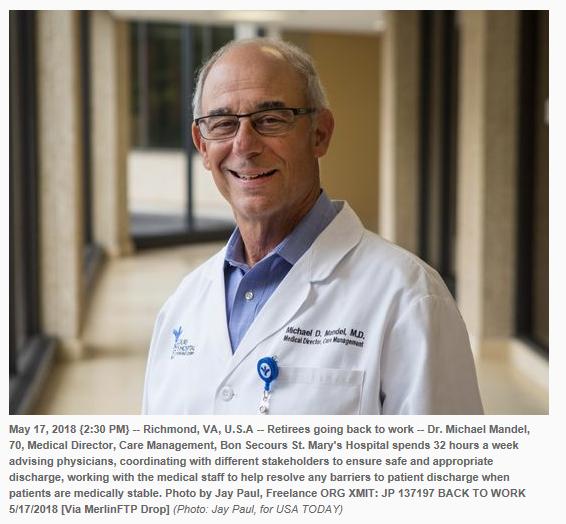 Read the whole May 21, 2018 USA Today article here:
https://www.usatoday.com/story/money/2018/05/21/retirement-delayed-firms-keep-older-workers-hire-retirees/613722002/
---
Russell Flammia - TJ Class of 1962
Posted: Tuesday, December 27, 2016 10:30 pm
He loved Thomas Jefferson High School as a student, as a teacher and now as a volunteer
By BILL LOHMANN Richmond Times-Dispatch Richmond Times-Dispatch
If the three years as a student at Thomas Jefferson High School weren't enough for Russell Flammia, then surely the 34 years as a teacher at the Richmond school would have given him his fill of the place.
Apparently not.
Since 2001, a year after his retirement from teaching ("I took a year off, and then I failed at retirement," Flammia said with a laugh), he has been the most faithful of school volunteers. He shows up to tutor students but also raises money for the nonprofit Tee Jay Vikings Fund and helps to organize class reunions.
"Here's the joke: It took him 37 years to get out of TJ," said a friend and classmate, Sidney Padow, "and then he went back, anyway."
"He's Mr. TJ. I think he's the only reason it's still open today," said Padow, who operates Padow's Hams and Deli and has known Flammia since they played football at Albert Hill Junior High School.
You could say he loves the place and just can't stay away, though the allure is not just the school's impressive art deco architecture.
"It means a lot," Flammia said of the building, "but the students mean more.
"I do it because I like to see students achieve. This is a measure of their success. There's a great deal of satisfaction when you accomplish something. I think it is for my students, too.
"To see the look on their faces when they've passed a test is pretty good. It's very good, as a matter of fact."
Flammia, 72, has devoted more than five decades of his life to the school — and you could say his devotion to TJ extends well beyond campus: His wife, Jackie, graduated from TJ a year after her husband.
She also is an educator, and they celebrated their 50th anniversary last June.
Flammia didn't come from a family that had experienced the benefits of education. His parents had 12 years of education. Total.
His mother completed the seventh grade, and his father — a second-generation Italian immigrant who worked as a caretaker for a West End estate — finished the fifth grade.
Flammia's goal when he arrived at TJ was to finish high school, get a job, and go to work.
***
His aspirations were about to change — though he didn't realize it at the time — when Charlie Cooper walked in the door of Flammia's Spanish classroom in February 1960.
Cooper, the football coach and also the track coach, had noticed eye-catching running times Flammia had posted in his physical education class.
"Why don't you come out for the track team?" Cooper suggested.
"It was a life-changing thing," recalled Flammia, a sprinter. "I went out for track, and I had some success. I met people I would not have met otherwise who were very much upward-bound, and I got on the bandwagon."
His participation with the track team led Flammia to the Key Club, where he encountered another role model: Russell Norment, the club's sponsor.
"Mr. Norment taught me a lot about service and leadership," Flammia said. "I'm indebted to (Cooper and Norment). They deserve a lot of credit. They inspired a lot of people."
After he graduated from TJ in 1962, Flammia attended the now-defunct Frederick College near Portsmouth. Four years later, he returned to work at TJ, where he taught U.S. history, government and economics for 34 years.
He also coached a variety of sports, including the boys soccer team, which won three district titles, a regional championship and a state championship.
In the classroom, he enjoyed going from being a new teacher surrounded by teachers he recalled from his student days to the veteran teacher watching his students succeed in the wider world.
"That's really satisfying for any teacher — to see students you taught grow up and become productive citizens," he said.
That's a feeling that has continued for Flammia through his volunteering at the school, where he helps students primarily with preparation for Standards of Learning tests. Beginning in October, he comes to school every day, pretty much all day, and works with whomever needs the help.
"When we're together at a VCU basketball game or on the street, his old students come up to him and hug him and kiss him and praise him," Padow said. "It's just really unbelievable."
"He's amazing," said Albert Negrin, a 1976 graduate of the school. Negrin knows Flammia from their work together for the Tee Jay Vikings Fund, a 501(c)(3) nonprofit that Negrin and Flammia helped to start.
During the past four years, the Vikings Fund — through donations from businesses, the community and TJ alumni — has raised more than $175,000 that has been used to renovate the school's locker room; build a fitness center; purchase a new marquee and a baseball scoreboard; install whiteboards in classrooms; restore the Julian Binford mural in the library; and award scholarships.
The Vikings Fund also has partnered with neighborhood churches on an after-school meals program for students participating in extracurricular activities.
"Part of my motivation in helping alumni plan their reunions was to foster a continuing interest and support of our students," said Flammia, who invites returning classes as part of their reunions to tour the school, eat lunch and enjoy a listen to the Tee Jay Cadet Corps Alumni Band.
"He cares about the students' well-being, and he still cares about the school he graduated from so long ago," Negrin said. "That's it: He cares about the school."
***
Few people have put in more miles walking the halls of Thomas Jefferson High School than Flammia.
Ask him to name his favorite place in the school, and "library" is first on the list. That's usually where you can find him during the school day.
On a recent afternoon in Flammia's working corner of the library, four students were seated in front of computers, researching one aspect of history or another. On bended knee so he could be at eye level with the computer screen, Flammia was chatting with one student about the Industrial Revolution.
Even after all of these years in the classroom, Flammia never quite knows what will reach a student. He was trying to help one youngster understand the significance and the human toll of the Battle of Iwo Jima during World War II.
He found a list of American casualties online, and thousands of names came on the computer screen — page after page after page.
"As soon as I showed him that, you could see a light bulb go on in his head," Flammia said. "It got through.
"You never know what's going to click, but when you see it click, it's great. It's great."
wlohmann@timesdispatch.com
(804) 649-6639
---
TJ 2015 "Spruce-ups"
Julien Binford Rededication 09-30-2015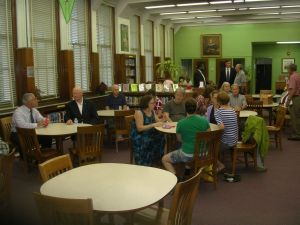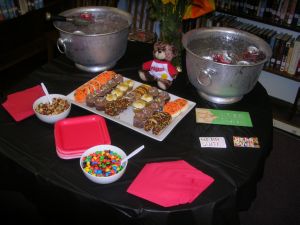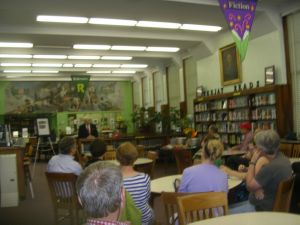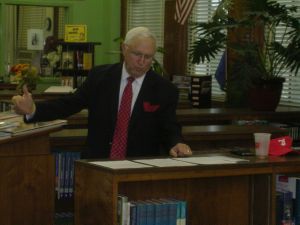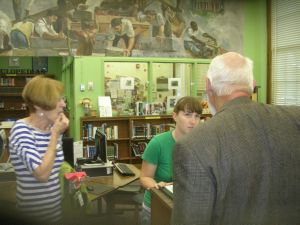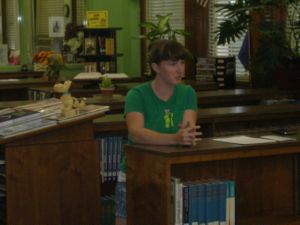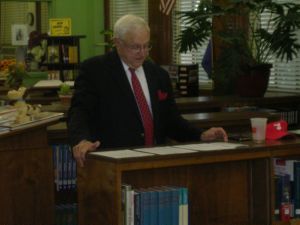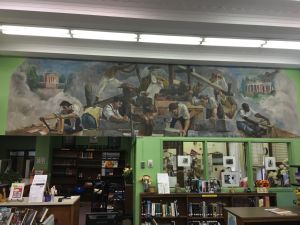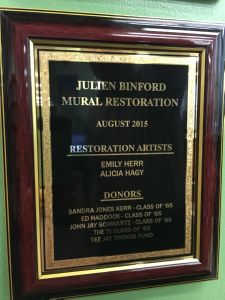 Cafeteria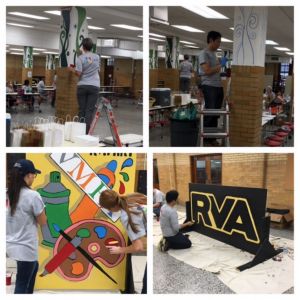 Health-PE Class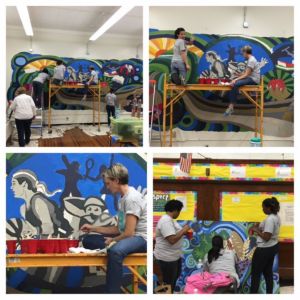 ---
A rebuilt football program at Thomas Jefferson
By ERIC KOLENICH
Richmond Times-Dispatch | December 2014
Chad Hornik spent eight years as an assistant football coach at Douglas Freeman and Deep Run high schools. Each season, his team played Thomas Jefferson, and he got a glimpse of how the program had fallen into disarray.
Thomas Jefferson hadn't won a game in four seasons. The uniforms were ratty, the lockers 40 years old, the weight room unsafe for use.
"I always said if I had the opportunity to be a head coach over at T.J.," Hornik said, "I would try to change the world, so to speak."
In the spring of 2012, that opportunity came, and Hornik was hired. He won his first game of the season that September and took the Vikings to the playoffs in 2013.
And in less than three years, he's helped raise $175,000 to give the football team a complete makeover and help out other areas of the school in need.
Thomas Jefferson, in Richmond, needed more than a football coach. It needed a fundraiser.
Hornik knew how to do both. He owns the Melting Pot restaurant in western Henrico County and was familiar with making proposals and asking politicians to help.
"I knew it was going to take more than just coaching," he said.
First, Hornik reached out to alumni. Albert Negrin, a 1976 graduate, has known Hornik for nearly 20 years through the Melting Pot. Together, they started the Tee Jay Vikings Fund, the school's first booster club.
"Without that, I don't know how much of this I could have gotten done," Hornik said.
The fund now has a board with 10 members, mostly alumni of the school and residents of the surrounding community.
"I haven't done much for T.J. in my (38) years that I've been a graduate," Negrin said. "But I wanted to do something more for the school and the community.
"I think that's how everyone else feels. They want to do something for their alma mater."
So they held fundraisers and asked for donations. The players sold raffle tickets at the Washington Redskins training camp and raised $10,000. The city gave the school $140,000, which was handed to the booster club.
The money was put to good use.
First came the uniforms, which cost $120 each for 50 sets. A new logo was designed with a more fearsome Viking, which was turned into a decal and placed on the helmets. They replaced lockers, painted the walls and installed new lights, which cost $35,000.
Renovating the weight room cost $75,000. Plus, a new washer and dryer were needed for the uniforms, and an irrigation system was purchased for the field at $20,000.
New benches were purchased for the sideline, costing $3,500. This week, construction continued on a new scoreboard at a cost of $25,000.
Cathy Haas, a member of the Junior League of Richmond, helped provide a snack for the players at every practice. The kids often had nothing to eat between lunch at 11 a.m. and dinner in the evening.
So with Haas' help, every player got a healthy snack — often fruit or a protein bar — on each day of practice.
The reach of the Tee Jay Vikings Fund extends beyond football. The club recently built a new marquee near Malvern Avenue, bought new basketball uniforms, and provided a $250 scholarship for a recent graduate.
Hornik still has big plans. His hope is to replace the current grass field with artificial turf; add lights so the team can play at night; expand the bleachers; add new locker rooms under the bleachers; replace the baseball field; and relocate the track.
Altogether, the project would cost about $4 million. If the city will pay half, the Tee Jay Vikings Club will raise the other half, Hornik said.
A fundraiser at the Melting Pot is scheduled Jan. 25.
If the project is completed, Thomas Jefferson would have the second artificial turf football field among public schools in the Richmond area. Huguenot High School will have the first when its new building opens next year.
While they are rare in Richmond, artificial turf fields at public high schools are common in Northern Virginia and Maryland. Part of the reason for installing turf, Hornik said, is that it requires much less upkeep than grass.
The rest of the amenities, however — suitable seating, lights, locker rooms adjacent to the field — are perks enjoyed by every football program in the surrounding counties. So much of what Hornik is trying to do will bring Thomas Jefferson's program up to the level of other area schools.
"Nobody else in my 35 or 40 years has come forward to do what he's done," Negrin said. "Chad has a big heart."
ekolenich@timesdispatch.com
(804) 649-6109
Twitter: @EricKolenichRTD
---
Mark A. Novick, owner of Silk Trading Co., dies at 67
posted November 6th, 2014
By ELLEN ROBERTSON Richmond Times-Dispatch
The salesman had just laid out fabric samples on a table at Silk Trading Co., a fabric store at 304 E. Grace St.
Seeing several that she liked, Maria Dorothea "Dee" Marzen, a company employee being taught the ropes of buying, let slip, "Oh, that's so gorgeous!"Immediately, the foot of her boss, Silk Trading owner Mark Allan Novick, came swiftly and uncomfortably down upon hers under the table, silencing her."I later asked Mark, 'Why did you sit there and stomp on my foot?' ""Mark said that was something his father did to him on his first buying trip to New York. As soon as you say something like that, the price goes up. Mark said you couldn't negotiate for a nickel."Mr. Novick, who took the reins as manager of Silk Trading from his father in 1978 and became owner at his father's death in 1984, died of complications of diabetes Wednesday in a local hospital at age 67. His health also had been complicated by a fall he suffered in May.A graveside service for one of the longest-running downtown Richmond family merchants will be at 11 a.m. today, Friday, in Richmond Bethel-El Cemetery in Forest Lawn, 4000 Pilots Lane.
"His mother really, really knew material. She did teach him that," said Lenard E. Shields of Richmond, owner of the former Shields Shoes, a neighboring business.Mr. Novick carried on some of the traditions begun by his parents, Julius and Minnie Novick, who founded the business in 1936.
"We always have tried to have something for everyone," said Marzen, now the shop manager. "You may not have been able to afford a Waverly fabric, but you never walked out of the store without something in your hand."Kathy Albers of Richmond, who worked for Mr. Novick when she first moved to Richmond, recalled, "Someone came in panhandling for food. Mark said, 'You can go to the corner (restaurant) and get yourself a meal. I will come at the end of the day and pay for the meal." It was a tradition his mother started.Silk Trading carried quality fabrics and "did well from the 1930s to the 1970s, when people came downtown," Shields said. "It wasn't until downtown started going down that people who normally wouldn't come downtown made special trips to Silk Trading for fabrics, and they got used to (Mark's) profanity as he got older."Shields said Mr. Novick "always was very outspoken about giving his opinion. He was a very colorful character who frequently disagreed with higher powers even if everyone disagreed with him."Sometimes called the unofficial mayor of East Grace Street, he would show up at City Council meetings, as well as meetings of Downtown Richmond Inc. and the Central Richmond Association, to express his thoughts on behalf of a loose group of nearby merchants.Shields said, "I always felt his heart was in the right place. Sometimes, we were in battles together in getting the city not to do something or getting the city to do something it didn't want to do. I remember him fighting for his customers not having to pay to park. He convinced the city into having the parking meters taken away for a time along where his business was.""Mark always went out of his way to help when someone else had a problem with someone or with the city or with a city code or how to get this done or repaired," Marzen said.A Richmond native who graduated from Thomas Jefferson High School and took business courses at the University of Richmond, Mr. Novick initially worked at Brown and Bigelow, an advertising business that sold such items as calendars and pens, before joining the family business.
He was a member of Temple Beth-El. He loved Broadway shows and music and was a huge baseball fan — the Dodgers were it from Brooklyn to L.A. He once had captained a tennis team at Chestnut Oaks in Henrico County."He was not John McEnroe, but he had his mouth," Mazen said."He was gruff on the outside but, if you could stick with him, he had a heart of gold," said his wife since 1973, Karla Good Novick.Besides his wife, survivors include a daughter, Amy Reneé Novick of Richmond; and a sister, Zelda Rae Weiner of Springfield.

---
'Man with Square Feet' and First Ultimate Ram mixes business with passion
Commercial real estate broker John Jay Schwartz has worked deals in 40 states in his storied career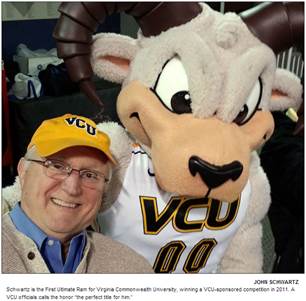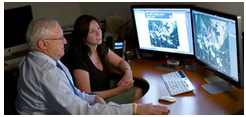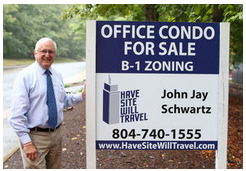 Some say John Jay Schwartz bleeds gold and black — team colors for the Rams.
He's the First Ultimate Ram for Virginia Commonwealth University, winning a VCU-sponsored competition in 2011.
He was the first radio broadcaster for Rams' basketball fans 40 years ago. Today, he is the color commentator for the VCU Lady Rams.
By day and other times, he's "The Man with Square Feet, celebrating 40 years with 40 million square feet."
The advertising moniker — 40 million square feet that he has leased or sold as a commercial real estate broker — has been worth every penny, Schwartz said.
"I am sure some people think it's silly, and it very well may be, but it has produced business," he said. "I've never been this busy."
Schwartz negotiates deals through Have Site Will Travel, a one-man shop based in Henrico County.
"I make the rain, and I close the deal," he said. "I ask the right questions and, if I don't know the answer, I go get the answer. … The person who says it can't be done is interrupted by John Jay Schwartz."
Whether he's trying to sell Mayo Island, a 15-acre plot of land in the middle of the James River underneath the 14th Street Bridge in downtown Richmond, a 1,600-acre industrial site in New Kent County or a two-office complex in Henrico — some of his current listings — he will travel.
He has a total of nearly 5,000 acres of industrial land for sale in central Virginia with the potential to create thousands of jobs.
"The cooperation of many economic development departments and most state agencies is critical to the success of any, let alone all, of these projects," Schwartz said.
During his career, he has worked deals in 40 states. Within the last year or so, he has brokered deals or consulted not only in Virginia but also in Florida, Kansas, Louisiana, New Mexico, North Carolina, South Carolina, Texas and Wisconsin.
Unlike his competitors, who specialize in segments of commercial real estate such as office, retail, industrial or warehouse, Schwartz handles them all.
He works with a marketing and technology team at New Media Systems to take aerial photos of his listings, make fliers, do email blasts and manage his website.
"Technology allows me to compete with the big firms," he said.
"John Jay Schwartz is a classic," said Doug Burford, who created "The Man with Square Feet" a year or so ago.
"I am from another planet, and we have gotten along great ever since," said Burford of Burford Advertising Inc. in Richmond.
"Sometimes you need to do something so radical and so bizarre," said Burford, who went through his client's history and added up all the square feet that Schwartz had dealt with over the years to come up with the phrase and logo for Have Site Will Travel.
Surpassing his 40-some years as a No. 1 fan and broker is his 42-year marriage to Gail, a dental hygienist. "We are still in love and happily together," Schwartz said.
Schwartz spent the first 12 years of his life in Church Hill.
The family lived on the second floor above Manny's Market, a shop at North 27th and S streets owned by his parents.
"My father and mother worked day and night to take care of three kids," he said.
He learned his first lesson in customer service from his father, Manny, who admonished him for putting eggs at the bottom of a grocery bag.
"I thought he was going to tell me how good a job I did, but I learned a valuable lesson from Manny that day in front of the customer who will remain nameless."
His parents sold the store in 1959, and the family moved to Richmond's Fan District. His dad went to work for Thalhimers department store at Sixth and Broad streets, and his mother worked at Flair, a ladies dress shop at Fifth and Grace streets.
Schwartz, 67, graduated from Thomas Jefferson High School in 1965 and earned his bachelor of science degree from VCU in 1969.
A college internship at Markel Corp., a specialty insurer in Henrico, taught him about business and helped him get through VCU.
"It was like a master's in business while working on my B.S. degree," he said.
Since then, his life has centered around VCU, family and business.
"Being the First Ultimate Ram is the perfect title for him and for all the right reasons — he loves his school, he is proud of his school and he loves the student athletes," said Robby Robinson, VCU senior associate athletic director for external affairs and the voice of the Rams.
"He has been our mainstay as the color commentator for the Lady Rams for three or four years," Robinson said.
"There have been times when we have needed him to carry the play-by-play," Robinson said. "John is always right there and will travel to different cities and will come through in the clutch for us."
Schwartz became the first radio voice for the Rams 40 years ago through contacts he had made in commercial real estate. He called the station manager at WDYL, a gospel station in Chester, who was open to his ideas for a play-by-play and color commentary for VCU men's basketball.
"It was a hobby, my avocation," said Schwartz, who did the show for five years.
In 1975, "I called a buddy at Channel 12 about doing a pre-taped coaches' show on TV. … I was the guy who made it happen."
During a business trip to Los Angeles in the late 1970s, he learned about simulcasts on radio and television from Chick Hearn, the late longtime play-by-play announcer for the Los Angeles Lakers of the NBA.
Schwartz came back to Richmond and arranged simulcasts for the Rams for the 1979-80 basketball season.
Acting on a new idea, he called a client, the president at Continental Cable, now Comcast, about a cable channel for the Rams. Schwartz had handled the lease for Continental's regional headquarters.
The cable company had a public access channel with nothing on it. Schwartz solved that problem — delayed broadcasts of VCU and University of Richmond basketball games.
As much as he loves sports, he couldn't keep up with the pace of traveling for his avocation. He was traveling for his real estate business and rearing a family.
Although Schwartz had his own company, he went to work from time to time for big entities such as the U.S. Department of Justice in the early 1990s as a real estate specialist, commuting to Northern Virginia to put together parcels for command centers and secure sites.
He became a broker at CB Richard Ellis from 1992 to 1995 and a real estate consultant for Dominion Telecom from 1999 to 2004. "We did 125 deals in three years," he said about Dominion Telecom.
His work with the government and large companies was critical to his learning curve and experience in commercial real estate firms.
Between the big gigs, he picked up where he left off at Have Site Will Travel.
"I have been very lucky that corporate America has liked me and trusted me," he said.
"He's a pretty resourceful guy," said Stuart C. Siegel, former chairman and CEO of S&K Famous Brands and for whom the VCU Siegel Center is named.
Schwartz did site selections for the now-defunct discount men's retailer around the country.
"He's someone who works hard and does what it takes to put people together," Siegel said.
Schwartz found dealership sites in Virginia for General Motors and restaurant sites for Wendy's and TGI Fridays. He handled the sale of the former Pittston headquarters near Virginia Center Commons and the relocation of the security and protection company's world headquarters, now The Brink's Co., into a leased facility in Henrico.
Other clients include Love's Travel Centers, Patrick Auto Group, Guild Launch, TW Systems, First Heritage Mortgage, Union Bank, McKesson Corp. and a host of land investors and developers.
"I am very good at taking someone's real estate and turning it into dollars," Schwartz said.
His first deals some 40 years ago were in the Fan District, where he helped negotiate long-term leases for Richmond-centric restaurants such as Bogart's, Strawberry Street Café, Soble's and Commercial Café.
As a citizen, the No. 1 thing he wants to see is a cure for cancer.
"Everybody has been impacted by cancer," said Schwartz, who lost his best friend growing up to cancer 14 years ago. "That was the first one that hit me between the eyes."
Schwartz wears rubber wristbands, one in pink for women and the other in yellow for men, as a constant reminder of this cause.
On his ultimate bucket list, outside of health and family, is to serve on the VCU board of visitors.
"I know as much about VCU as anyone," said Schwartz, noting his involvement with the development of the VCU Business School.
Schwartz is chairman of the fundraising committee for the Cabell Library and a loyal supporter of the VCU Massey Cancer Center. He served 16 years on the VCU Alumni board.
On a recent day, he wore a black-and-gold polka dot tie, gold VCU cufflinks and black-and-gold striped socks in honor of his favorite team.
He has four center-court seats in perpetuity marked with "Schwartz" plaques at the Siegel Center, where the home games are played.
chazard@timesdispatch.com (804) 775-8023
Grassroots effort aims to update school's old athletic fields
Watch video here: http://wtvr.com/2013/06/19/grassroots-effort-aims-to-update-schools-old-athletic-fields/
RICHMOND, Va. (WTVR) — A grassroots effort is underway to revamp the outdated athletic fields and outdoor lighting at Richmond's Thomas Jefferson High School.
The $3 million plan would expand the school's football and baseball fields and add a new field house and grandstand. It would also move the track to the front of the school and add additional parking and lighting.
"T.J. has some bleachers, but they have no lights," said David Ballard, a former Richmond School Board chairman. "It's kind of hard to believe that a school this old has never been able to play night games."
Melissa Hughes, who lives nearby and walks her dogs at night, said the improvements would greatly benefit the neighborhood.
Ballard is also asking the community to get behind the project.
"There's a lot of information that shows that kids that are involved in sports do better academically," said Ballard. "Our focus is better academics in the school system. You need to keep kids engaged, so that they can do something."
Ballard, who also lives near the school, said he is working with business leaders and other community groups who will foot the bill for the multi-million dollar project.
"If they look out and they see what they've got to play on, and then go to Deep Run, or they go to Tucker. Any of the schools in the whole metro area, and they say, 'Geez, these guys have everything,'" said Ballard.
Organizers have also reached out to the Washington Redskins since the team will be moving their training camp to the city in a few weeks.
The RPS board will have to sign off on the plan before work can begin.
Posted on: 6:49 pm, June 19, 2013, by Nick Dutton and Sandra Jones, updated on: 06:07am, June 20, 2013
---
Win all in family for the Harmons
Sat Mar 9, 2013.

Win all in family for the Harmons Paul Woody pwoody@timesdispatch.com Richmond Times-Dispatch

Ron Harmon called it the "wheelbarrow."

He would hold his son, Vance, by the ankles, and Vance would walk around the house and up and down steps on his hands.

The idea was to strengthen Vance's wrists, arms and shoulders.

"I think it worked," Ron Harmon said.

Vance, 42, didn't play Friday night in Henrico's 72-48 victory over John Marshall in the Group AAA championship game.

Instead he coached the Warriors to their first state championship in boys basketball.

And all the conditioning, coaching and the film study done at the Harmon house when Vance was in middle and high school played a significant part in Friday night's victory.

The Warriors' triumph was a family affair.

First was the immediate Warriors family: the players, coaches, faculty and administrators.

Next was the extended Warriors family: the alumni and former coaches, especially Guy Davis, who was the boys basketball coach at Henrico for 26 years.

That was 26 years of success highlighted by Davis' quiet demeanor, humility and first-class treatment of everyone around him, win or lose.

Finally, and perhaps most important, the victory belonged to the Harmon family: Vance and his wife, Christy, of course, along with daughters Virginia Anne, 8, and Margaret, 3.

But this also was a victory shared by Vance's parents, Ron and Anne.

They never have sat idly on the sidelines. They have been involved in Vance's development as a basketball player from the first time their son bounced a ball on the floor.

"We tried to find something he enjoyed," Ron said. "We never sat him down and said you're going to be a basketball player.

"But when he made up his mind that was what he wanted to do, we put everything into helping him be the best basketball player he could be."

Vance graduated from Douglas Freeman High School as the all-time leading scorer in Henrico County high-school history.

"One thousand seven hundred seventy points," Ron said.

Ron and Anne saw practically every one of those points. And they have all of their son's games on videotape, from middle school through high school.

"I loved it," Anne said in a moment of reflection after Friday night's victory.

After each game, Ron and Vance critiqued the film. Ron, who was a high-school basketball coach for 20 years, including a long stint as an assistant to Davis at Henrico, did most of the critiquing.

"It wasn't him saying, 'Come in here. Let's do this,' contrary to what most people, people who didn't know, thought," Vance said. "I wanted to do it. I wanted to soak up his knowledge."

"My dad was always about making me grow as a person and player and challenging me. It made me a better person."

Friday night's championship was decades in the making.

Vance started coming to practices and games at Henrico before he was big enough to shoot. It wasn't long before he was on the court shooting at halftime of Henrico games, in the back gym during games and on the main court again after games.

"I loved it," Vance said. "And I loved watching the big guys play."

His team played Friday night, controlling the game from the start, never letting up nor showing any signs of nerves in a game this big.

Friday night, the younger Harmon proved he's one of the best coaches in the state.

And his mother and father, so much a part of Vance's life, were there to see it. Vance wouldn't have it any other way.

"Words don't do justice for the influence they've had in everything," Vance said. "It would way be shortcutting it to say their influence was just in basketball. They always preached that everything you do off the floor carries over on the floor.

"They instilled the idea in me that everything you do, do right, do what you're supposed to do. Hopefully, that has enabled me to be a good husband, father, teacher and coach."

And, his parents will add, a good son.

[Coach] Cooper's influence felt by many at Thomas Jefferson
By: Paul Woody | Richmond Times-Dispatch
Published: June 19, 2012
Charlie Cooper, who died June 11 at 92, was athletic director at Thomas Jefferson from 1962 until he retired in 1985.
Once a week, Charlie Cooper would visit the Virginia Home to talk and read to Stan Navas.

Navas had played football for Cooper at Thomas Jefferson High School. While he was home from a break at VMI, Navas' house caught on fire. He went in to help his family and suffered injuries that left him blind and unable to speak.

Cooper never forgot Navas.

"That was typical Charlie," said Jim Holdren, former track athlete for Cooper and coach under Cooper at TJ. "Charlie didn't care how fast you ran or how far you could throw a football.

"He cared about you as a person. He started my coaching career. If it hadn't been for him, I would have worked in a chemistry lab somewhere. I'd be retired now."

Instead, Holdren, who is one of the country's outstanding high school coaches, continues to coach cross country and track and field and serve as athletic director at Maggie Walker Governor's School.

Navas and Holdren are but two examples of Cooper's influence on the lives of students and athletes who came through TJ.

Cooper died June 11 at the age of 92. A memorial service was held for him Sunday.

Cooper was not just any coach or athletic director. He was an outstanding football player at Graham High School in Bluefield and at the University of Virginia.

He was elected a team captain for his junior year at Virginia, but before he could accept that honor, World War II interrupted his education.

Cooper, a member of the U.S. Marine Corps, was among the first wave to hit the beach at Iwo Jima. There, Cooper suffered two serious bullet wounds, for which he received a Purple Heart. One of the wounds left his left hand paralyzed and ended his athletic career.

He returned to Virginia as a student and student-coach. Upon graduation, he returned to his native southwest Virginia where he coached in Chase City, Bluefield and Marion.

He came to TJ in 1952. He coached football and track and field and became athletic director in 1962. He retired in 1985.

During his time at TJ, Cooper influenced many lives, not just of students but of coaches as well.

"I still called him Mr. Cooper because I had so much respect for him," said Bobby Bayliss, who played tennis at TJ and returned there to teach and coach tennis. "He was a great big figure to me."

Bayliss had been the tennis coach at TJ for a year and a half, when the Naval Academy athletic director called and asked him to interview for a coaching job.

Bayliss was recently married and quite comfortable as an English teacher and tennis coach at TJ. Plus, he was entered in a tennis tournament the weekend of the Naval Academy interview and really wanted to play.

Bayliss, who had taken the call from Navy in Cooper's office at TJ, explained that the interview date wasn't convenient, but he would see what he could arrange.

When he hung up, "Mr. Cooper put both hands on my shoulders and said, 'Son, do you want that job?' " Bayliss said. "I said, 'I guess so.' He said, 'You're darn right you do. Call him back and tell him you'll be there Saturday.' "

Bayliss took the job at Navy, where he stayed 15 years. He moved to Boston to become a teaching pro at a country club and coach at MIT for three years. Then, he became tennis coach at Notre Dame, where he has been for 25 years.

"If Mr. Cooper hadn't been there, I'd probably still be teaching at TJ," Bayliss said. "He turned my life around at that moment without me even realizing what was happening."

As Holdren said, typical Charlie.


pwoody@timesdispatch.com (804) 649-6444
**********************************************************
CLASSMATE COMMENTS
**********************************************************
-----Original Message-----
From: Haddock, Ed
Sent: Monday, June 18, 2012 12:36 PM
To:
Subject: FW: Re-Cap of Sunday's Service for Coach Cooper

Dear Family

This is about my high school football coach.

Team mates, class mates and closest of friends Pat Rice, Bill Clarke and I (and Henry Ragle who we lost some years ago) were impacted in our lives by his example, coaching and mentoring. He just had a way you knew was right. We would have done anything he asked and were better off for it. Any discussion of values, integrity, caring and hard work could only be elevated by reflecting on Coach Cooper.

He passed away and Bill Clarke represented us at his funeral in Richmond day before yesterday. I felt like Bill's unvarnished summary revealed enough about Coach Cooper to make it worth reading for all of us. As you can see, he was also one of those brave young men like Eli Kimmerly who put it all on the line for all of us in WWII and returned against the odds. Maybe he was delivered to touch all the lives he effected through his coaching career. He was 93 when he passed away last week.

One foot note. A star team mate a couple of years ahead of us who we all knew and admired, Stan Navis (whose sister Mary Ellen Edye has met at TJ reunions), returned home from college for Christmas vacation freshman year. There was a tragic fire when everyone was asleep and after rescuing his family members in peril he was overcome with smoke, had severe brain damage and was an invalid until he died from complications 18 years later. Coach Cooper visited him almost every week for 18 years to read at his bedside whatever he wanted to hear that day.

**********************************************************
-----Original Message-----
From: Bill Clarke
Sent: Monday, June 18, 2012 11:16 AM
To:
Subject: Re-Cap of Sunday's Service for Coach Cooper

Dear Classmates, Teammates, and Friends. During our high school years we were very fortunate to have leaders, teachers, and coaches like Bill Brock, Clarence Russell Norment, and Charlie Cooper. That list could go on and on. Undoubtedly, we all realize that now. Charlie Cooper died a week ago today after a lengthy battle with Alzheimer's. His service was yesterday, Sunday, June 17th. Here is a brief re-cap that I sent to Ed Haddock and Pat Rice that I thought may be of interest to you. I hope that you are all well. Bill
Hi Eddie and Pat. Thought you might like to hear about today's service which was held in the Chapel at Woody Funeral Home on Parham Road. I'd say there were 50 or 60 people in attendance. The service lasted around 40 minutes with Coach Cooper's Hospice Pastor leading the service. Russell Flammia, class of '62, and our school's unofficial alumni chairman, spoke about Charlie for about 10 to 15 minutes and did an excellent job of conveying Coach Cooper's qualities of honesty, integrity that was beyond reproach, and his belief in hard work. Russell said that he was in class one day when Coach Cooper pulled him out, saying that he had seen Russell's P.E times posted and wanted to know if he would come out for the track team. Russell did and has been in coaching and teaching ever since--always at TeeJay. Russell said that Charlie was his mentor, and that they ate lunch together almost daily for something like 18 years. Another story that Russell told had to do with Charlie's devotion to our friend and classmate Mary Ellen's brother, Stan Navas. Most of us remember that a horrible fire burned the Navas' family home during Stan's Christmas break from his first year at VMI. Tragically, Stan never recovered. Coach Cooper cared deeply about Stan, his former player. He cared so deeply that he went to see Stan weekly and would read to him. He would read Sports Illustrated, magazines, whatever Stan wanted. And this went on for a long time--almost every Friday for over 15 years. Finally, Russell shared some stories about Iwo Jima that Charlie had shared with him. Here are those two stories.
1) Charlie was in a fox hole with two other marines. Trying to get his bearings, Charlie stuck his head up out of the fox hole very quickly for a look around. He did that twice. After that, the two other marines stuck up their heads for the same purpose, and were killed immediately by the same bullet. A Japanese soldier had been waiting for that third time and it was the other two, not Charlie, who put up their heads.
2) Charlie told Russell that he thought he became overconfident in his movements as the marines were advancing. Charlie was running straight ahead instead of side to side. That is when he was shot in the arm which totally twisted his arm around and left it mangled as it was when we knew him. As part of that same incident, he was also shot in the chest, narrowly missing his heart. Coach Cooper's Purple Heart was on a table in the front of the Chapel.
I was looking for people that we might all know. I didn't see anyone else from our class. I had called Howard Donald, whom I had not seen since the mid 70's, and I sat with him. Howard still lives in Richmond and looked very good--kept his weight about the same, etc. Bobby Caudle was there, as were Mark Probst and Cary Shade. I talked with them for awhile. I worked for a couple of years with Mark's Dad at Sears. Great guy. Mark looks nothing like he used to. Very thin, white hair, looked very good. Legendary Freeman coach, Bill Long, was there and sat with Paul Flemming's widow. Paul passed away a few years ago. Enjoyed talking to Buddy Cousins and Paul Menetti. Buddy runs a website called Richmond Sports Slant. I did not see Norman (NuNu) Williams, but I know that he had been very helpful and supportive over the years. He taught Charlie how to carve duck decoys, and some of Charlie's work was on display in the front of the Chapel. It was excellent. Remember Willie Crowder? He helped coach for a year. He was there. I spent some time talking with Charlie's son, Tom. When I saw him in the parking lot, I had not yet learned who he was , but I knew he was a Cooper from the way he was built, the way he walked, and what his hair did. He was a red headed 4 or 5 year old when we met him on the back field. He said that his father really wanted to continue as coach, but knew that as a widower, there would not be enough time to be teacher, coach and Dad. Tom still lives in Richmond.
I've been thinking about how fortunate we were to play for a man like Charlie Cooper. Pat, I really liked your note about his being one of your lifetime heroes. Our lives were being shaped, and we were enjoying it too much to notice. We all have our stories. I well remember the three of us running countless 220's, under Coach Cooper's supervision, in the spring of our Junior year staying in shape for our upcoming year. I remember him calling Johnny Stultz, "Stutz", wearing his red and white jacket, pounding his mangled hand into his good hand, saying "By Golly, Boy, When I was on Iwo...". What bigger thrill was there than to hear him say, "Time to saddle-up, men.", on Friday nights. His life wasn't easy. He worked in the coal mines growing up in Southwest Virginia. He left UVA to join the Marines and fight for his country. He took the beach at Iwo Jima and earned the Purple Heart. His wife died, and he was left a single Dad. Finally, he spent the last years of his life with a debilitating disease. He's in a better place now, and he damn sure paid his dues to get there.

Hope you guys are well. Bill
Bill Clarke

**********************************************************
-----Original Message-----
From: Pat Rice
Sent: Sunday, June 17, 2012 3:24 PM
To:
Bill Clarke

Subject: Re: Coach Cooper

Bill,

Glad you will be there to represent our class. What a great coach and role model for so many young men. I remember him once telling about sending young Marines across an air field knowing that most of them would not come back. He never mentioned that he also had to go which was probably the case. The term hero is overused in our day and time but he was one of mine.

Pat
---
New Thomas Jefferson football coach Chad Hornik has brought many changes to the team. Among them is a new workout program. With a weight room unfit for use, the team flips giant tires.
By:
|
Richmond Times-Dispatch
Published: May 13, 2012


Updated: May 13, 2012 - 12:16 AM
The drill starts with lifting the seven monster truck-sized tires on end and rolling them to the football field. Each one weighs between 100 and 125 pounds and is about 5 feet wide, give or take.
Once the tires are flat on the ground, the players crouch down as if they're at the line of scrimmage and reach their hands under the sun-beaten, grooved rubber. Then the coach, Chad Hornik, blows his whistle. As fast as they can, Thomas Jefferson football players take turns flipping over the giant tires.
For the next five minutes, they lift with their legs, drive with their backs, watch the tire fall and repeat. Hornik tells them to take all their anger — whatever frustrations they're dealt from school, their parents, and even the coach himself — and to take it out on the tire.
"They're pretty heavy," 5-foot-4 running back Michael Robinson said. "Some of them are the same size as me."
The drill is just one of the many changes brought to the T.J. football program in the past month and a half. Since being named football coach on April 4, Hornik has announced plans to rejuvenate one of the state's most downtrodden football teams.
T.J. hasn't had a winning season since 1983, when the athletic programs of Thomas Jefferson, Huguenot and George Wythe High Schools were combined. Since then, the Richmond school has developed a gradual acceptance for losing, Hornik said.
The Vikings' last win came in 2007, a 21-6 victory over J.R. Tucker. They've since dropped 41 straight games.
Player morale had dwindled, and only 19 players dressed for the final game of 2011, Hornik said. Discipline among players became an issue and the accountability of the coaching staff dropped off.
Principal Tanya Roane formed a committee of school representatives and parents to find the next football coach. Instead, Hornik found them.
"We knew we wanted Chad from the beginning," said Briana Boyer, a parent on the committee. "We needed a coach who understood where we needed to be, not where we were."
The school's facilities lag behind those in the surrounding localities. The field is overrun with weeds. The paint on the scoreboard has faded. The lockers are made of wood and aren't large enough to hold a football player's equipment. And the weight room floor is damaged, making the machines shaky and unsafe for use.
In the meantime, the team conditions outdoors, using gravity as its machine. They flip tires, do pull-ups, push-ups, squats, lunges — whatever is necessary to get into football playing shape.
But Hornik has a plan to bring the facilities up to par. He has started a campaign to raise $175,000 and provide his players a suitable locker room, weight room and uniforms.
"Chad is rebranding the entire program from top to bottom," T.J. athletic director Jay Johnson said.
Hornik started with alumni. With the help of Albert Negrin, Class of 1976, Teejayvikingsfund.org was started to manage the donations. At the first alumni meeting, 20 people showed up.
"I was overwhelmed," Hornik said. "These alumni have come forward and are ready to help."
Just one locker costs around $750. So anyone who sponsors one will get his or her name on a plaque affixed to the locker. The same goes for weight room equipment.
The Vikings will sport matte black helmets, similar to those worn by the University of Oregon, a style that isn't really seen in the Richmond area. A new logo has been designed, too — a more menacing Viking — to help phase out the old team.
In years to come, Hornik hopes to install field lights, a fieldhouse, new track and an improved field — amenities that are commonplace elsewhere, but are absent at T.J.
It's all to convince the boys at Thomas Jefferson High School that playing football is a worthwhile experience.
"He's done more in a month than we've seen done in two years, at least," Boyer said.
So far, results have been positive. At the first meeting for prospective football players, 70 students attended.
The team runs voluntary practices through the spring. Where there used to be three or four participants, there now are 14 to 20. By the fall, when baseball and soccer players become available, the Vikings should have a full roster.
Chris Calloway, a rising senior offensive lineman, says Hornik has brought a new atmosphere to the team. In the old days, players would show up when they wanted and still expected to play.
"Here, everything is earned," Calloway said.
The lineman doesn't mince words when discussing his expectations for the Vikings in 2012. He wants to reach the state playoffs.
"Why start low?" he said.
Calloway understands the improbability of going from 41 consecutive losses to the state tournament. But as a senior, this is his last shot at playing for a winning high school football team.
Hornik hasn't promised they will end the losing streak, said Robinson, the team's running back. But the coach has promised players they'll be ready for every opponent.
So how did the facilities at T.J. get so bad, so "gross and gruesome," as Boyer described the weight room?
"The issue is the funding," said Dawn Page, Richmond School Board chairwoman. During her four years on the board, she's fought for greater funding for athletics. Last year, the school system implemented an athletics task force to find ways to improve sports at all city schools. Athletic programs have been introduced at middle schools, and new sports are popping up at every city high school.
"You can't really see any improvements if you don't give it the necessary funding," Page said.
Hornik is the first coach to reach out to T.J.'s alumni and area businesses for support, Johnson said. Previous attempts to rebuild the program were fragmented.
"He's connecting the dots," Johnson added. "He's not trying to do it alone."
So why would Hornik, the 42-year-old owner of The Melting Pot in Henrico, decide to take on such a tall task?
"It's more than X's and O's," he said.
Hornik went to Florida International University on a track scholarship. Had it not been for that scholarship, he probably never would have attended school, he said. Seeing the value athletics had in his life, he hopes to give the same opportunity to the kids at Thomas Jefferson.
They might not all get scholarships, but if football is enough motivation to make a player show up for class when he otherwise wouldn't, or stay up late studying for a test, then Hornik has done his job.
ekolenich@timesdispatch.com (804) 649-610
http://virginiapreps.rivals.com/content.asp?CID=1355539
Thomas Jefferson High School in Richmond is a unique school.? Located in city, the school has traditionally had a difficult time fielding a competitive football team. New coach Chad Hornik is set to change that.?? Like the school, Hornik is unique, having a different background than most football coaches.? Sure he has plenty of experience on the football field, from playing in college, semi-pro and coaching on the high school level - but Hornik is also part owner of The Melting Pot Restaurant, which adds something to his resume' that you don't see with the average high school football coach.
"We are going to build something special at Thomas Jefferson," Hornik told VirginiaPreps.com.? "We have already had 55 kids sign-up for the team, without even having a meeting."
We asked Hornik why take on the challenge at TJ?? He responded "There is a great opportunity here to have an impact on young men's lives.? It is more than winning football games, though we expect to do that as well."
The enthusiasm in Hornik's voice was obvious and he added "This is most excited I have ever been about football, but we realize we need help.? I estimate we need about $150,000 to put these kids on an even playing field with the local competition. Our locker room and weight room conditions need huge improvements."
Hornik has quickly assembled what he calls a solid staff, saying they share his passion and outlook for TJ.? "You are only as good as your staff. I have reached out to people in the community to find those that are trying to help others in their day-to-day lives and they will be bringing that same focus as assistant football coaches to the young men here at Thomas Jefferson."
Thomas Jefferson's football team has not won a game since the 2007, and its overall record over the past seven season is dismal 1-69, but new coach Chad Hornik does not seemed deterred and is using the Vikings recent lack of success as a motivator.?? "The program's past is one of the big obstacles," Hornik said adding "Convincing the local community to see TJ as institution capable of having a good football program is a challenge, but one we are willing to undertake.?


Coach Hornik was an assistant at Glen Allen the past two seasons, coaching the team's quarterbacks. He started his coaching career as the receivers & special teams Coach with the Virginia Hornets Semi-Pro Football Team in 2001. Then Coach Hornik moved to the High School level in 2003, when he accepted a position with Douglas S. Freeman where he coached their receivers, quarterbacks, running backs, and special teams. During his last season with Freeman, he helped lead them to their first playoff birth in 13 years. In 2008, Coach Hornik accepted the Head JV Coach position at Deep Run and he was also their Offensive Coordinator and Special Teams Coordinator.

Coach Hornik was a three year starter with the Virginia Hornets semi-pro football team in Richmond.. During College he was Captain of the Track Team and was a Pole Vaulter and a Sprinter. While in the Army, Coach Hornik also competed on the All-Army National Track Team and had a personal best of 17'6" in the Pole Vault. Prior to college, Coach Hornik started at quarterback for 8 years and won several championships.

Coach Hornik is the Proprietor of The Melting Pot Restaurant in Gayton Crossings Shopping Center and also owns part of eight other locations across the country. Coach Hornik is married to his amazing wife Kathleen Kelleher Hornik and they have a two daughters!
---
January 5, 2012 - Town & Village - Stuyvesant Town in NYC
"9/11 memorial is for New Yorkers, too, says Stuyvesant Town volunteer [Cheryl Sporn Gross] ...
Read the whole story in the PDF version ---> Click Here
---
Richmond Times-Dispatch November 19, 2011
Getting to know: John Jay Schwartz
Richmond Times-Dispatch September 6, 2011
VCU Library Exhibit Remembers 911 - Fri, 09/02...VCU alumnus John Jay Schwartz came to the school with the limited-edition prints.
Click here to read both articles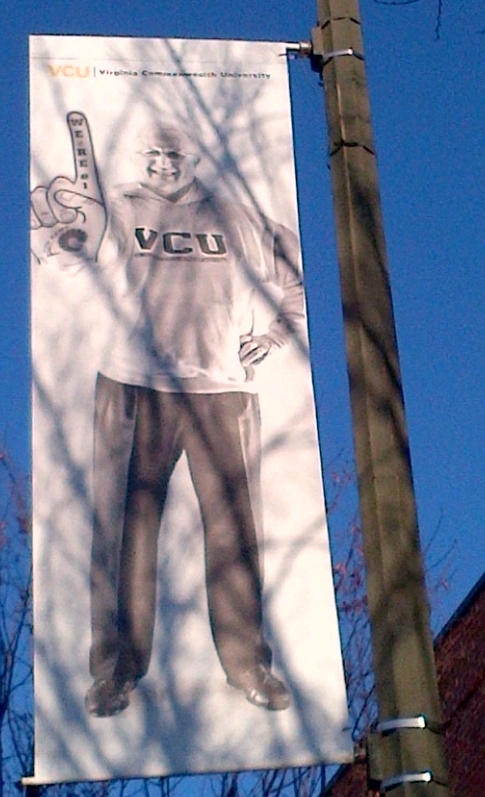 Broad Street in front of the Siegel Center
---
Richmond Times-Dispatch August 22, 2011
By: Jeremy Slayton
Published: August 22, 2011

Suzanne <Small> Wolstenholme was not a very good secretary, and for that, appetites in the Richmond region are grateful.

The founder of the popular eatery and catering firm, Homemades by Suzanne, has been delighting customers' palates since she opened her first shop in Ashland nearly 30 years ago.

Originally conceived as a place for people, who have little time to cook, to pick up homemade dinners at the end of a busy workday, Homemades By Suzanne has evolved into a multi-division operation with locations in Ashland and downtown Richmond.

The company recently fulfilled one of Wolstenholme's dreams — Homemades by Suzanne handles the management, booking and catering of the two historically restored ballrooms at the Hotel John Marshall in downtown Richmond.

"It's like a dream come true," she said. "I always wished for a ballroom … and now I've got two."...
Click here to read the whole story
---
Leadership Metro Richmond, a regional leadership development and service group, has announced its 2011-12 board of directors officers and members. All are graduates of LMR and started their terms July 1.

Neil Kessler, a partner with Troutman Sanders LLP and a member of the LMR Class of 1995, will serve as chairman of the board...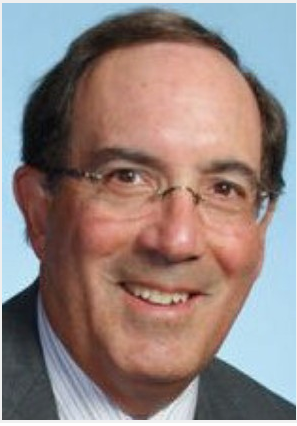 Richmond Times-Dispatch - 8/6/2011
---
Richmond Times-Dispatch November 19, 2011
Getting to know: John Jay Schwartz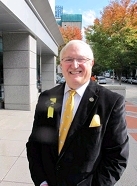 By: Times-Dispatch Staff
Published: November 19, 2011

Title: managing director, Have Site Will Travel Ltd.

Born: Richmond

Education: bachelor of science in accounting and finance, 1969, and international business certificate, 2009, Virginia Commonwealth University; professional designations of master of corporate real estate, 1986, and real property administrator, 1994

Career: General Services Administration real estate specialist, U.S. Department of Justice; real estate director, CB Richard Ellis-Corporate; real estate consultant, Dominion Telecom; managing director, Have Site Will Travel Ltd.

Where do you live: Henrico County

Claim to fame: VCU 1st Ultimate RAM!

Best business decision: "Leaving Richmond to move to Washington and joining the General Services Administration to work, learn and manage at a major, diverse project level."

Worst business decision: "Not knowing more about partners and associates and their understanding and tolerance of commercial real estate practices and risks."

Mistake you learned the most from: "Leaving the real estate business for another business venture, then not returning to real estate as quickly as I wanted."

First job after college: "Accounting with Markel Service and bookkeeper for Siegel's Super Markets. Always wanted to stay in sports broadcasting and administration, but the salaries were not there when I tried it, so I started in the real estate business."

If you had to do it all over again, what would you do differently: "Stayed longer with a larger company to learn more about the business world from experienced leaders and expand my abilities."

Movie that inspired you the most: "The Godfather," the "Indiana Jones" series and anything with John Wayne.

Favorite/least favorite subject in school: Favorite was math; least favorite was the sciences.

---
Richmond Times-Dispatch September 6, 2011
VCU Library Exhibit Remembers 911 - Fri, 09/02


By: WESLEY P. HESTER | Richmond Times-Dispatch
Published: September 06, 2011

Walking through Virginia Commonwealth University's James Branch Cabell Library on Friday, student John Loan was stopped in his tracks by the images he saw being hung from the walls.

The prints — from artists Lili Réthi and Nicholas Solovioff — trace the construction of the World Trade Center towers in the late 1960s and early 1970s and serve as the centerpiece of an exhibit opening today about the 10th anniversary of 9/11.

"I looked at the prints, and they just floored me," said Loan, 55, a former acting coach who lived in a loft just blocks from the twin towers on Sept. 11, 2001. "I didn't realize I was still so affected by it still. I haven't talked about it in so many years."

Shortly after the first plane hit that morning, Loan scrambled to the roof of his building where he had an unobstructed view of the towers. Seeing the flames, he was struck with panic. He had friends who worked there, one of whom, Peter, would die that day.

"Then, the worst thing happened," Loan said, his voice quavering with emotion. "I saw the other plane coming. I just couldn't believe what I was seeing. It was the only time in my life when I said, 'Am I dreaming this?' But I knew that I wasn't."

He said the plane seemed to scream as it hurtled into the building, exploding with deafening impact.

"That's when it hit me that it was not an accident. New York was under attack. But it wasn't just New York, it was my neighborhood — my home," Loan recalled tearfully. "I couldn't move. I just stared."

Then the towers collapsed, a plume of smoke, soot and ash washing over him.

"It was just unbelievable. Nothing you can even imagine," said Loan, who moved soon after the tragedy, trying to leave the emotions and memories of that day behind with the neighborhood, to which he hasn't returned.

Loan, who was born in Virginia, returned to Richmond and enrolled at VCU where he is working toward a double major in social work and women's studies.

He said seeing the prints awakened him to the fact that 9/11 will always be a part of him, no matter how far buried beneath the surface. That's why he plans to attend the exhibit. "I have to get through this," he said. "I can't stay in denial forever."

Earlier this year, with the 10th anniversary of 9/11 approaching, VCU alumnus John Jay Schwartz came to the school with the limited-edition prints.

Schwartz, a real estate consultant who years ago had helped devise a rental strategy for the top floor of the World Trade Center, had received them as thanks from the Port Authority of New York and New Jersey, which had commissioned them in the 1960s.

"There are lots of different perspectives on 9/11 and many folks are looking at the heroes and victims, the reaction of the country and the consequences," said university librarian John E. Ulmschneider. "With those prints, though, we saw an opportunity to take a different tack — to focus on the buildings."

As luck would have it, the school had the perfect complement on campus, courtesy of Stephen Vitiello, an associate professor in the department of kinetic imaging.

In 1999, Vitiello, an experimental musician and sound artist, was given a studio on the 91st floor of one of the towers for six months to record the sounds of the building and its surroundings.

Because the windows did not open, Vitiello mounted ultrasensitive microphones on the windows, capturing — especially in the wake of Hurricane Floyd — the vibrations of the building, its creaking and swaying, and the faint sound scape of New York City life.

The prints and Vitiello's recordings are the two main features of the university's 9/11 exhibit, which runs through Sept. 23 with an opening reception this Friday.

Just inside the library's entrance will be a "Wall of Memories," where patrons can post brief reflections on 9/11. On the fourth floor will be a series of three small exhibits, "Richmond and 9-11: 10 Years Ago," a collection of local media accounts, "Comic Artists Respond to September 11, 2001," and "Artists' Books Commemorate September 11."

Ulmschneider remembers the controversy over the construction of the towers, seen by some when he was growing up as "gigantic boxes that ruined the skyline."

But over time, he said, they "evolved into a core symbol of American preeminence and pride.

"They became such iconic buildings so important to what New York City thought of itself, what America thought of itself," he said.

Noting that many of VCU's incoming students were 8 when the towers fell, Ulmschneider said his greatest hope is that the exhibit will help them "understand why these buildings were so important, what they meant to us and what their loss meant to us."
---
Richmond Times-Dispatch August 22, 2011
By: Jeremy Slayton
Published: August 22, 2011

Suzanne Wolstenholme was not a very good secretary, and for that, appetites in the Richmond region are grateful.

The founder of the popular eatery and catering firm, Homemades by Suzanne, has been delighting customers' palates since she opened her first shop in Ashland nearly 30 years ago.

Originally conceived as a place for people, who have little time to cook, to pick up homemade dinners at the end of a busy workday, Homemades By Suzanne has evolved into a multi-division operation with locations in Ashland and downtown Richmond.

The company recently fulfilled one of Wolstenholme's dreams — Homemades by Suzanne handles the management, booking and catering of the two historically restored ballrooms at the Hotel John Marshall in downtown Richmond.

"It's like a dream come true," she said. "I always wished for a ballroom … and now I've got two."

A native of Richmond who now lives in Hanover County, Wolstenholme grew up in a family that would have a feast at the drop of the hat. That love of cooking stayed with her and helped plant the seed for the business she later founded.

It's a route she might not have taken had she not realized she was not cut out to be a secretary, a position she held in her early 20s, first at Reynolds Metals Co. and then at Kings Dominion.

By her own admission, she was not good at it.

"I never got fired, but I could always tell they were glad when I left," she recalled.

Even then she didn't launch herself into her company. She took a few years off work and learned chair caning at St. Joseph's Villa.

It was then that a friend suggested Wolstenholme go back to college and finish her degree, which she completed in business administration and management from Virginia Commonwealth University when she was in her early 30s.

Afterward, she couldn't immediately think of what she wanted to do with a career, so eventually she combined two things she loved — entertaining people and serving food.

* * * * *

Homemades by Suzanne is no longer just a place for people to pick up homemade dinners. It has evolved to include multiple divisions that provide boxed lunches, self-service catering, gift baskets and full-service catering.

She will continue to provide many of those services when her downtown Richmond operation moves in October from The Colony Club on East Franklin Street to the historic Hotel John Marshall, a 16-story former hotel at Fifth and Franklin streets that first opened in 1929 but closed in 1988.

It is being renovated into 238 apartments and 20,000 square feet of street-level retail space.

But the ballrooms will be Wolstenholme's domain, a place to cater weddings, serve lunch or reminiscence and share decades-old memories of the hotel's grand ballrooms.

"Almost everybody you meet in Richmond has a memory of these ballrooms," she said.

Even earlier this month, as renovation work at the hotel neared completion, Wolstenholme envisioned customers sitting in front of the floor-to-ceiling windows in the Marshall Room, the smaller of the two ballrooms, eating lunch.

Still, she is not straying too far from the company's early beginnings.

She will offer tenants in the Residences at the John Marshall a dinner program where they can order meals that John Marshall Catering — the new division of Homemades by Suzanne — prepares and stores in the apartment's refrigerator, ready when the tenant returns home after work.

It's much like she envisioned with she first opened Homemades by Suzanne in Ashland in 1983.

"You have to be good at the service, and the product has to be good, too," Wolstenholme said.

John C. Camper, who owns the Hampton Roads-based Virginia Atlantic Development Inc. — which acquired the John Marshall in 2005 and is co-owner on the project with Dominion Realty Partners — said he's known Wolstenholme for about seven years. But he feels as if he's known her his entire life.

"That's the way she makes you feel," said Camper, who describes the partnership with Suzanne as a win-win situation. "I think when you're a young bride or a business owner you want to feel comfortable with the person."

Wolstenholme has a long history in the Richmond region that includes once operating shops on Sixth Street in downtown Richmond, at Libbie and Grove, and at the Robins Tea House at Lewis Ginter Botanical Garden. Her company also once provided food for the dinner theater at the Barksdale Theatre in Hanover.

Jay Leno, before his "Tonight Show" fame in the early 1990s, once stopped in at the Sixth Street store. And during the 2008 election, Republican vice presidential candidate Sarah Palin visited the Ashland location while on the campaign trail.

* * * * *

Ashland Mayor Faye O. Prichard, who has known Wolstenholme for years, said Wolstenholme has a work ethic that is second to none.

"She never seems to run out of time," Prichard said. "The rest of us are confined by a 24-hour day; I'm not sure how many hours are in Suzanne's."

Life for Wolstenholme is not limited to just the business that bears her name.

She is an avid traveler and is active in the Ashland and greater Hanover County communities. She serves on the board of directors for the Hanover Humane Society and is active with the Ashland Chamber of Commerce, where she once served as its president.

Prichard credits Wolstenholme's hard work for keeping the Hanover Humane Society going over the years through helping with fundraisers and facility improvements.

She also has made a positive impact on the lives of others. Wolstenholme and her husband, Warren, are foster parents and have welcomed eight children into their home for various lengths of time.

"I think that we just felt so grateful having been blessed with all the good fortunes that we've had," she said. "We felt like it was a calling, something we needed to do."

Wolstenholme's company was lauded two years ago with the Small Employer Award from the National Association for Persons in Supported Employment.

The award is given to a business or people who advance equitable employment for people with disabilities.

"They need an opportunity just like anybody else," she said. "If we have one to give, then that's a good thing."

Prichard said Wolstenholme is not one to shy away from being her best, whether it's at her business or her nonprofit interests.

"Suzanne is the first one to always say, 'Competition is never a bad thing. We just have to show people that what we do, we do better than anybody else,' " Prichard said. "Those are not just words. She really does do whatever she does better than anybody else."
---
Richmond Times-Dispatch October 2, 2006



New officers for Junior Achievement of Central Virginia are: chairwoman, Marilyn T. Bota with Bluestone Process Dynamics; vice chairman and chairman of fundraising, George F. Boatright with Media General Inc.; treasurer, Eric B. Tolbert with Massey Energy Co.; and secretary, Jonathan B. Macdonald with Cherry, Seymour & Hundley.
---
Richmond Times-Dispatch September 1, 2006



Joel F. Brenner, who was NSA's inspector general, will play a central role in identifying and evaluating threats and coordinating efforts to predict, penetrate and pre-empt intelligence activities directed against U.S. national security.
---
National Real Estate Investor August 1, 2006
Groundbreaking Columnist Calls it a Wrap After 23 Years
When John B. Levy began writing a monthly column for Barron's in 1983, Ronald Reagan was in his first term as U.S. president, Tiger Woods was a 7-year-old golfing sensation...
---
Richmond Times-Dispatch July 17, 2006
GOVERNMENT
John Jay Schwartz has been appointed to the Henrico County Board of Real Estate Review and Equalization. He is the managing partner of Have Site Will Travel.
---
Richmond Times-Dispatch May 29, 2006
Homemades by Suzanne [Small Wolstenholme] still cookin'
Entrepreneur has built catering-restaurant business in Ashland and Richmond
---
Richmond Times-Dispatch Apr 24, 2006
Mark Novick understands how the Maytag repairman feels...
---
Richmond Times-Dispatch Apr 20, 2006

The Henrico Business Council of the Greater Richmond Chamber honored county leaders this week at the second-annual Henrico Awards Celebration, held in the Cultural Arts Center at Glen Allen.

The Lifetime Achievement Award went to Neil Kessler of Troutman Sanders LLP.

The HAMmy Award, which recognizes the county's biggest cheerleader, was awarded to Susan Foster Stanley, business community partnership specialist with the Henrico County school system.